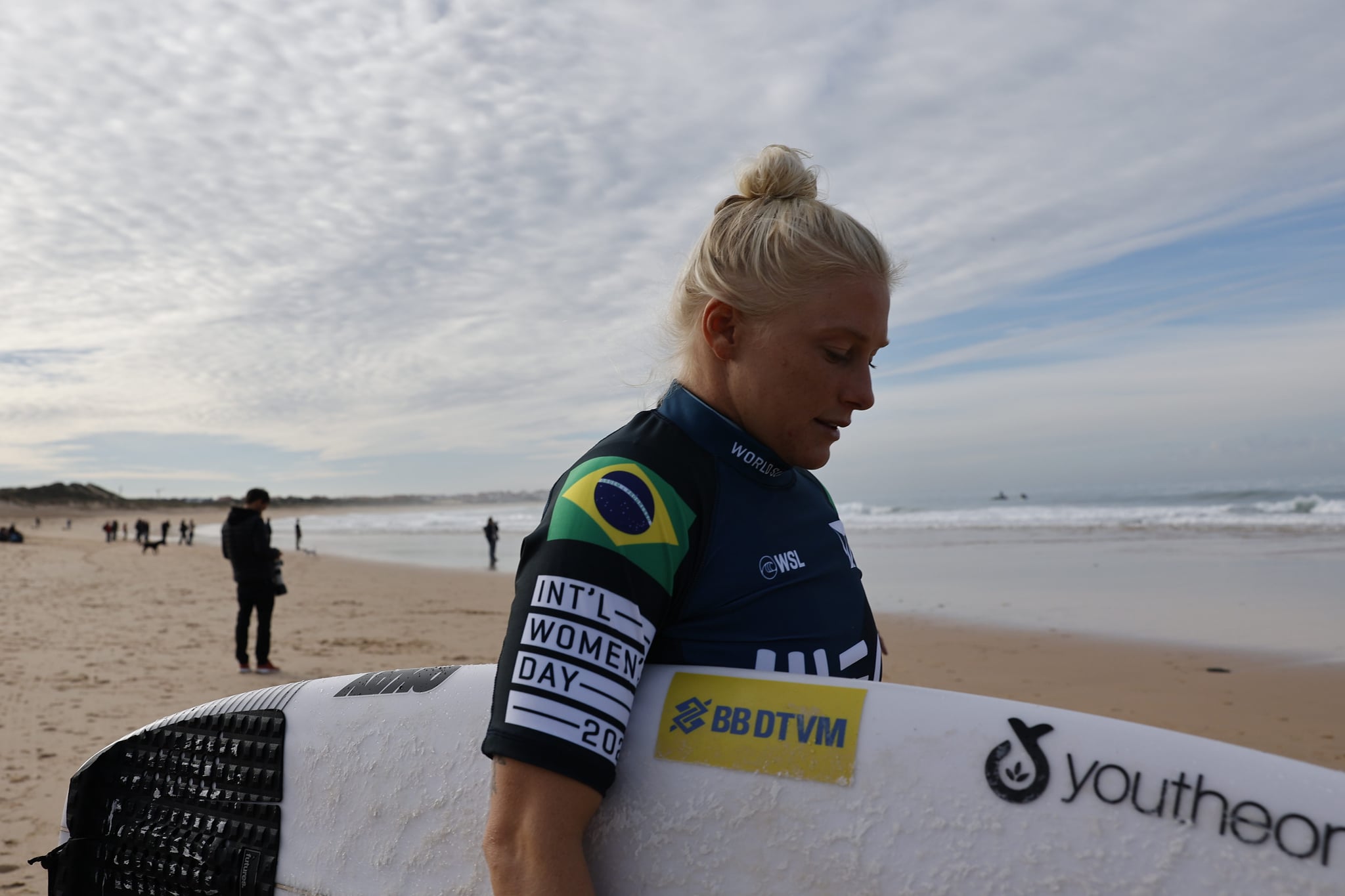 Image Source: Getty Images / DeFodi Images
Every year, since 2009, the best surfers in the world descend upon the tiny fishing town of Peniche, Portugal, for the MEO Portugal Pro. The elite surf competition is the third stop on the World Surf League (WSL)'s 2023 Championship Tour — the top tier of international surfing competitions and the foremost qualification method for the 2024 Olympic Games.
This year, the first day of competition falls on March 8, International Women's Day — and the WSL isn't letting that go unnoticed. At the MEO Rip Curl Pro Portugal Presented by Corona, every athlete will compete wearing a special IWD jersey that bears the name of an inspiring woman in sports. Each athlete handpicked the woman they want to honor.
Australian men's surfer Jackson Baker, for example, will have the name of American Olympic gold medalist Carissa Moore on his jersey. Moore, who's competing in the Pro herself, will have the name of fellow women's pro surfer Megan Abubo on hers.
US men's competitor Kelly Slater chose Margo Oberg, an iconic surfing champion from the 1960s-80s, "because she was a queen of surfing early on," he tells POPSUGAR. "When I was a little kid I used to see her in the magazines and vote for her in the surfer poll awards. I wanted to honor and celebrate her as one of the pioneers of our sport who paved the way."
Other athletes ventured outside the sport of surfing when choosing who to honor. US women's surfer Lakey Peterson chose sisters and tennis legends Venus and Serena Williams. "I didn't want to choose between the both of them, so I chose just WILLIAMS to be on the back of my jersey in wanting to represent both Venus and Serena," she tells POPSUGAR. "I think they are two women who have busted down the doors of women's sporting areas, and proven what can be done as [women] on the court."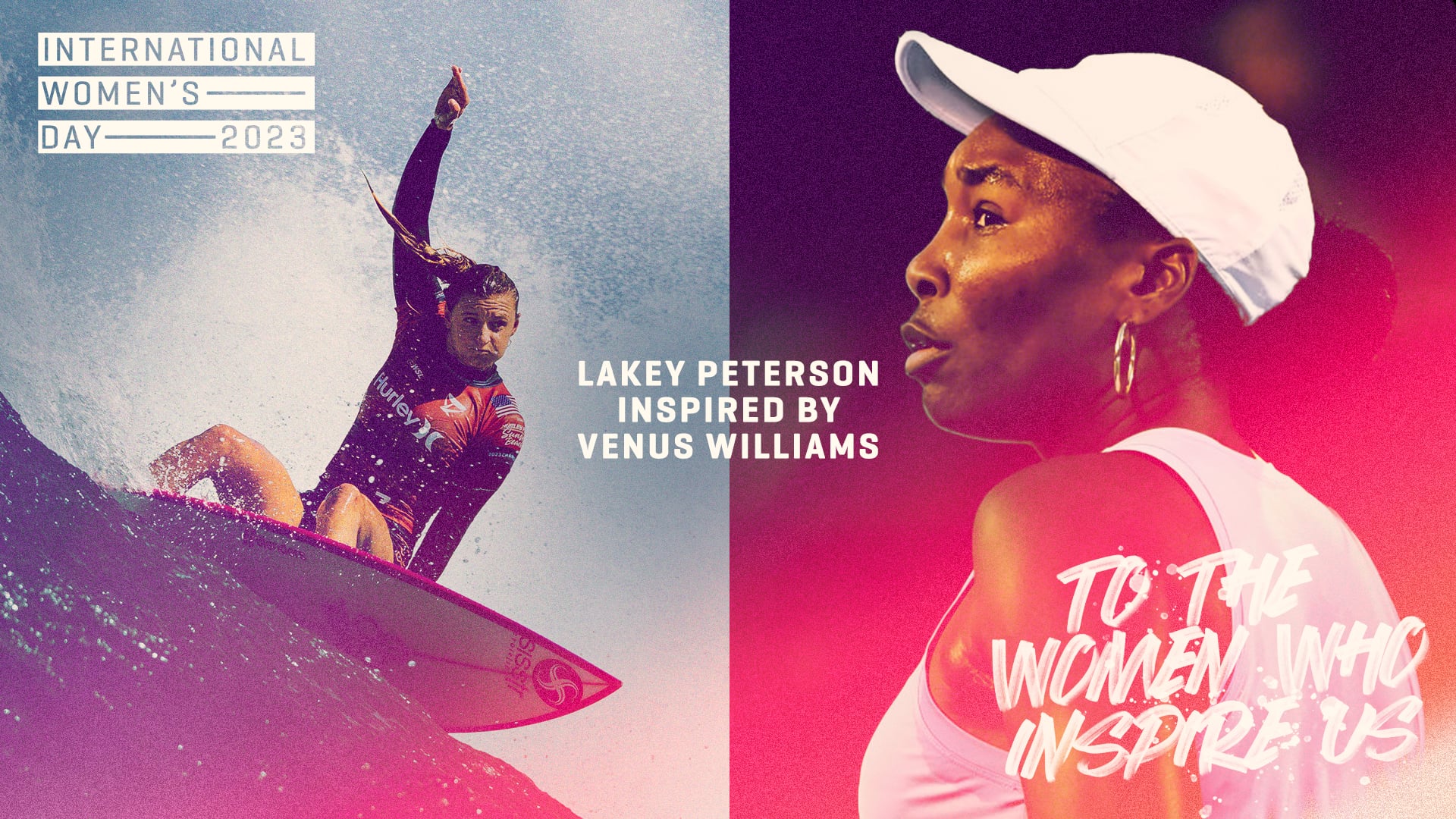 Image Source: World Surf League
Meanwhile, men's US surfer Kolohe Andino chose two-time track and field Olympic gold medalist Sydney McLaughlin. "To achieve so much at her age, and to carry herself the way she does, I look up to her in a lot of ways," he says. "She set a record and won Gold at the 2020 Olympics. Anyone can look up to her, but as an athlete, I truly see her as an example [of] how to achieve your goals."
The goal of the campaign is to honor the progress made within women's professional
surfing, bring attention to the ongoing mission for equality in sport, and inspire the future generation of female athletes, per the WSL. It's the second year the league has celebrated IWD in this way, and it will be an annual tradition going forward.
"We're committed to equality and inclusion and have made impactful progress within surfing, including equal prize money and our fully combined Tour schedules for men and women," Jessi Miley-Dyer, WSL chief of sport, tells POPSUGAR. "As a league, we hope we can serve as an example to other sports and inspire the next generation of female athletes. For International Women's Day and every day, we honor trailblazers who have paved the way."
As Miley-Dryer says, the IWD campaign is far from the only thing the organization is doing to further equality in the sport. In 2022, the Championship Tour season hosted identical competition schedules and venues for women and men — which was a first in professional surfing history. And since 2019, the WSL has awarded equal prize money to the women and men competing in every WSL-owned and operated event. That's big, considering a significant gender pay gap in sports still exists, and other women athletes — such as the US Women's National Team — have had to fight long legal battles or protests to make any progress toward securing equal pay. When the WSL made this change in 2019, they became the first US-based global sports league to achieve prize money equality.
Empowering women athletes goes beyond honoring the GOATs who've shattered glass ceilings and made strides for equality in sport; it also means presenting equal opportunities for all athletes and offering equal compensation. The WSL is making waves for their commitment to doing so in professional surfing — here's hoping other governing bodies in sport aren't long to hop on board.