I'm in the trendy area of East London—Shoreditch, to be exact—arguably the perfect place to interview Zoë Kravitz, the connoisseur of cool. I enter a palatial suite in the Nobu Hotel. The room is clean and minimalistic, but still edgy, featuring a floating chair that looks more like a work of art than actual seating. To the left, my eyes fall on Kravitz. With her legs perfectly crossed and one hand laid gently on top of the other, as they both rest on her knee, she peers at me and smiles. It lightens up the room.
She begins to fuss with her bangs. Her glam team immediately interjects. They do a little zhuzhing, but it fixes nothing—they were already perfect. I sit across from Kravitz and she proceeds to give me her full attention, as if there are not five other people in the room. I get slightly nervous by the onlookers, but I can tell she's used to this. After all, she was literally born into this—arguably having two of the hottest people in Hollywood (Lisa Bonet and Lenny Kravitz) as her parents.
We're here to celebrate YSL Beauty's heritage and newest fragrance, Black Opium Le Parfum. Kravitz has been the face of the brand since 2017. Through this partnership, YSL Beauty has conveyed its desire to reach a younger, edgier, more Kravitz-esque audience to the masses. The actress has grown with the company, beginning in her late 20s, now on the brink of her mid-30s, but YSL has grown too. "YSL has been so wonderful in terms of getting to know me and allowing me to me be," Kravitz says. "It feels effortless because I don't have to transform into something that I'm not to represent the brand."
It seems as if YSL Beauty is undergoing a transformation of its own. Historically, the luxury, high-fashion brand wasn't accessible to the fashionable youth, but through YSL Beauty, it's reaching a whole new audience. Its suite of products currently speak directly to the Gen-Z and young millennial demographics, who want dewy skin and items that look good and are good for the complexion. "I think it's going in a really beautiful direction," Kravitz adds, referencing the Nu Lip & Cheek Balmy Tint with Hyaluronic Acid that I'm wearing, and how it's not a product I expected from the brand. "They're branching out—getting, younger and fresher. Even the colors are changing, and it's exciting." We proceed to rave over the new shade extensions for its widely coveted Rouge Volupté Shine Lipstick Balm.
The Black Opium Le Parfum is synergistic with Kravitz: a warm and spicy presence that mesmerizes the senses. For those who are familiar, the aroma is a more intense version of the Black Opium Eau de Parfum. I begin to think more about scents and wonder if a particular one reminds her of her mother. "Yeah—nagchampa," Kravitz reveals of the incense that's often burned to encourage a sacred space and meditative environment. "She's always burning it in the house." Nagchampa is made from a magnolia flower, sandalwood, and halmaddi, a tree resin. Combined, it has a sweet, musky scent.
As I continue to sit with Kravitz in the large hotel room, she seems to relax more and more with each passing minute. We bond over being Black women, and it feels more like a friend catch-up than an interview. She shares the contact information for her hair braider with me (yes, the one that gives her those iconic microbraids), what scents remind her of her famous mother, and, despite all these years in the industry, how she remains authentically herself.
---
People say "like mother, like daughter." In what ways are you like your mother? How do the two of you differ?
My mother and I are very similar people. We have a similar sense of humor, and we are both not great at pretending—meaning, if we're not feeling you, we can't hide it. I'm a lot more social than my mother. She's definitely a homebody. She lives away from the city and I love to be in cities and to be around people—that's where we differ the most.
How do you manage to consistently show up as authentically yourself in an industry known for projecting its own standards?
I have moments where I stray, or I do something that's not authentically me. And I immediately feel it, and it feels icky. I feel depleted when I'm spending energy trying to be something that I'm not, and trying to fit into a box that I don't fit into. So it affects every part of me when I don't feel like I'm being myself. It affects my competence and it affects the way I'm able to communicate and connect with people.
You've become known for your braided hairstyles. In recent years, we've seen more braids on the red carpet, but you've been wearing braids—particularly your microbraids—long before it was trendy. Have you ever felt any pushback or discrimination for your hair in Hollywood?
[Pre-George Floyd], I was constantly just fighting [about my hair] and being asked to change it. I would do a shoot, and this still happens to be honest, where they'll say, "Can you take your braids out? Because we want to do something else." And I always reply, "Pretend this is the way it grows out of my head. You don't ask people that have long blonde hair to change their hair every time they do a shoot." It's interesting that I'm often asked to pop them braids out. Do you know how long this takes? And it's also the way I wear my hair.
What is the longest you have ever sat to get your hair braided?
Twelve to 15 hours, something crazy like that. The key is to have to braiders at a time. But you know what's funny, I now kind of like it. It's almost like being sick. Having the excuse to just—I stay home, I watch films, I smoke weed, and I just get my hair done. It's actually a great excuse to not have to do anything, and it's great.
There has been a lot of talk about how the entertainment industry mistreats Black women. How has it changed in positive ways, and where would you like to see improvement?
I think there's more of a consciousness around making sure that Black women, Black people, get to be a part of stories that go beyond stories about being Black, and then also finding ways to bring that truth into a story. For a long time, it was about being—if it was a Black woman, with a white man, it was about that, you know what I mean? It couldn't just be a love story between two people. I think that's really exciting. And ways I would like [the industry] to continue to grow—I want more Black directors. I want more Black female directors. In terms of telling our story, I would be excited to work with more Black female directors. So let's make more room for that.
The Black Opium perfume bottle has been compared to a black vinyl couture dress designed by Yves Saint Laurent. What are some of your favorite looks that have come to life on the red carpet?
Anthony [Vaccarello, creative director of Saint Laurent] is a wonderful collaborator. He's made me some of my favorite dresses, because we really get to work on things together. I love some of the things he made for the Batman press tour. This one dress for the London premiere that had these cut-outs, which was sexy and beautiful; and then we made that crystal see-through dress for the Met Gala a few years ago, and that was crazy. I love working with Anthony.
When do you feel that your light shines the brightest?
My light shines the brightest when I'm with people who love me and know me for me. When I feel safe to be myself and not really second-guessed. When I'm being creative—you know, in some kind of creative zone, I think that sparks something in me. I love when I'm acting or if I'm directing or if I'm writing and I'm really in that focused place. That's where I'm turned on.
What sparks your creativity?
It's the zone where something really captures all of you, gets all of your attention, and everything else kind of melts away, and all that matters is this thing that you're working on that you care about. Whether it's a character or directing or whatever it is—I think it's just something that captures all of your attention and you give everything to that. It's such a beautiful feeling.
This interview has been edited and condensed for clarity.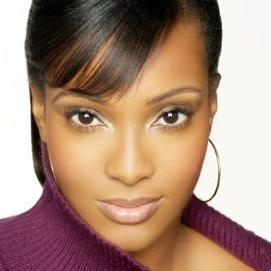 Beauty Director
Danielle James is the Digital Beauty Director of ELLE.com. Previously, she was the Fashion and Beauty Director of HelloBeautiful.com and MadameNoire.com. She's bylined for The Cut, InStyle, Allure, Business of Fashion, Nylon, Essence, Good Housekeeping, The Grio, and Huffington Post. Danielle enjoys sailing, thrifting, Japanese whiskey, Naomi Campbell's runway walk, and Rihanna in the comment section.