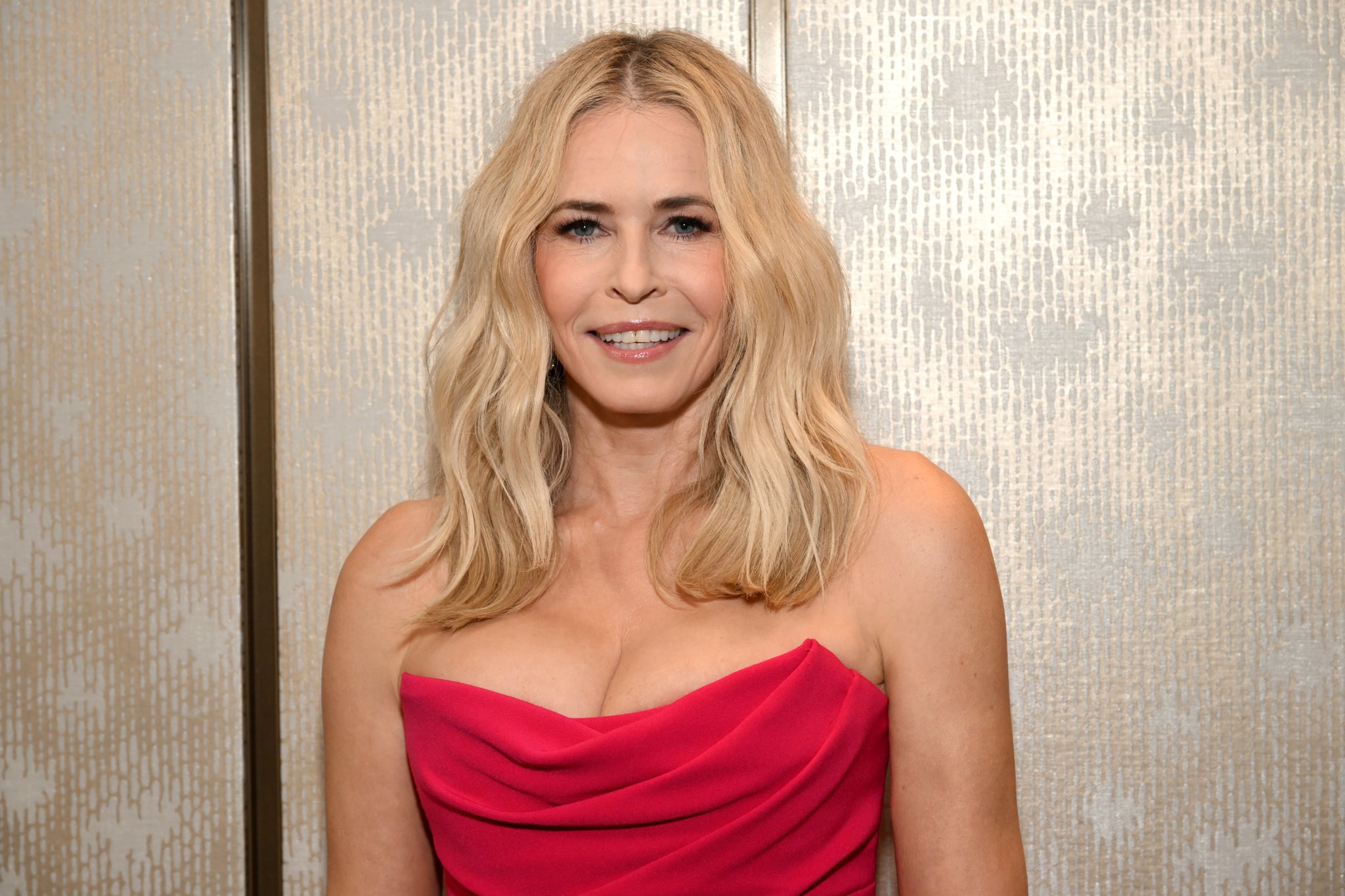 Comedian Chelsea Handler just turned 48, and she celebrated by downhill skiing in a bandeau bikini, emblazoned with the US and Canadian flags — something that's become a birthday tradition of hers in recent years. To the sound of Eminem's "Without Me," Handler hikes up to a peak in her ski boots, skis slung over her shoulder, and then rips down a steep run. The caption, a simple: "48! Salud!"
As hard as is it to beat that birthday post, her longtime trainer, Ben Bruno, got pretty close: On Feb. 26, Bruno shared an Instagram video montage of many comical moments working out — or, more often, not working out — with Handler.
The video starts with Handler doing Bulgarian split squats weighted by one of her two dogs, Bert or Bernice. (It's hard to tell which.) She has the chow-chow mix cradled in her arms like a giant sandbag while she pushes through reps on her right leg. The challenging strength exercise improves your balance and builds strength in your quads, hamstrings, glutes, and core — and TBH, Handler makes it look easy.
That move may be part of the reason why Handler feels strong enough to ski nearly naked; building unilateral (i.e. one-legged) strength is incredibly helpful for skiing as well as many other activities that require each leg to work on its own, such as running or tennis.
Bruno narrates the montage video with a voice-over: "Today's Chelsea's birthday, and I wanted to put together a montage of some of her best stuff. Because we've trained, I don't know, eight or nine years now — definitely over common law — and in that time, she's done so much to advocate for women to get strong. Because a lot of women are scared that strength training . . . is going to bulk them up, and she has really . . . turned that right on its head."
He thanked Handler for always being grateful and shouting out his training business on social media. "Ben Bruno, thank you for my body. I mean, I feel so strong," Handler says, including a mirror-selfie video included in the compilation.
Bruno goes on to show clips of Handler sassing him during workouts (which he gives right back to her), as well as other antics the two have gotten into together. We see Handler smoking while doing single-arm dumbbell presses, yelling at Bruno about his dad humor while doing poolside walking lunges holding a dumbbell, and telling him to "go home" while stretching on a Pilates Cadillac reformer. He included a bit of her iconic birthday ski run, too.
As much as the montage makes their workouts look like all fun and games, Bruno trains Handler hard in the gym. In a video posted Jan. 20, Bruno showed Handler doing a complex core move: a slider plank with a weight plate on her back and a resistance band around her ankles. In another video Bruno posted in November 2022, he showed Handler doing a supported single-leg Romanian deadlift with a honking 53-pound kettlebell. "[Handler] has got way more than 99 problems, but her core strength ain't one. Really impressive stuff here—a lot of pro athletes struggle with this one," Bruno wrote as the January post caption.
Not only is Bruno's birthday video for Handler a great reminder that you don't have to take your workouts too seriously to reap the benefits of exercise, but it also makes us want to start working out with a professional comedian. HBD, Handler — we can't wait to see what your next workout with Bruno brings.
Image Source: Getty Images / Michael Kovac