While it's tempting to spend the weekend clad in sweatsuits, making brief outings to and from the deli for requisite sustenance, lazy weekend dressing is on its way out. The act of getting dressed up for a weekend of nothing or everything is coming back full force, and Aritzia is here to lead the charge. While they may be best known for their iconic Super Puffs, which gain more and more fans each year as the temps drop, Aritzia is stepping up their game for all the moments and all the seasons in between. Case in point: their cozy casual line, Sunday Best. The offering is extensive and relaxed: easy silk camis and slip dresses match with adorable shorts or with a shrug cardigan over top, classic shirting and blazers that don't feel stuffy, and simple tees and pants that are ideal for couch potato-ing.

Who better to be the face of such a versatile and easy line than the princess of comfort dressing, the perennially online style icon Emma Chamberlain? Her style is extremely adaptable for all moods, body types, and levels of comfort. Sometimes she's in wide leg pants, sometimes she's in a boyish shirt, and other times a mini skirt with a teeny-tiny tank top. The synergy between the brands is perfect, with Chamberlain's mercurial style and the dynamic approachability of dressing in Sunday Best. For her second Sundays with Emma series, Chamberlain takes on a different topic for each story, à la Anything Goes, her hit Spotify exclusive podcast where she muses on a different topic each week.
In between the debut of the first edition of the Sundays with Emma series, working on her podcast and running her coffee company, Chamberlain took some time to speak exclusively with ELLE about what makes up her perfect Sunday, from her coffee (of course) to workouts, outfits, and everything in between.
---
How do you take your coffee?
I'm all over the place these days… For the past few months I have been making myself a hot latte or cappuccino or cortado with almond milk every morning (it changes everyday), then once I finish that, I make myself a cold brew to sip on until the afternoon (Chamberlain Coffee of course). When I am not home and I can't be my own barista, I usually order a cold brew or a cortado with almond milk. It all depends on the weather, my mood, and what I'm craving.

What do you have for breakfast? Order in or make your own?
I almost always make my own breakfast, and my go-to is eggs. I love having a frittata ready to go in the fridge at all times, it's so easy to reheat and it's delicious. I will say though, I'm picky about my eggs. They can't be runny or wet, they have to be fully cooked (and almost dry…). Whenever I order eggs for breakfast at a restaurant I beg them to overcook them… Some people find this odd about me, but I've just always preferred them this way.

Sleep in or wake up early? Do you set an alarm?
I love waking up early these days, it's my favorite time of the day. I usually set my alarm for 6:30/7am, but if I've had a late night, I'll set my alarm for 8am. I feel really inspired by the early morning because it takes discipline to experience it. I am not naturally a morning person, so it was a challenge for me to start waking up earlier when I first started. I noticed quickly how beneficial it was though, because anytime I woke up early, I felt a sense of accomplishment first thing in the morning. Waking up early is a small win for me, and it motivates me to continue through my day with that same level of discipline.
What's one thing you'll never do on a Sunday?
There is nothing I won't do on a Sunday. Sometimes my Sundays are filled with activity, sometimes they are spend in bed, and sometimes they are spend working. I try not to base my daily activities on the day of the week, and instead choose what I want to do intuitively. I will say though, I try not to do anything rigorous on a Sunday, I try to keep my schedule clear that day so I can use it to recharge if I need to.

Do you exercise?
I love getting my ass kicked in a workout. Most recently, I have been obsessed with bootcamp style workouts that combine running and weight training. When I'm not in the mood for that, I love hot yoga/hot pilates. When I'm not in the mood for that either, I love going for a long walk or doing chores around the house to get some movement in.

What is your Sunday outfit?
Sundays are for comfy clothes. I spend a lot of my Sundays at home in sweatpants. If I'm going out to run errands, you will probably find me wearing some sort of cozy sweater with some sort of stretchy or loose pant. Comfort is my main priority.
What's one thing you've never talked about on Anything Goes that you want to cover next?
I have always recorded Anything Goes alone, only discussing my thoughts and point of view on things. I am excited to integrate guests on my show at some point this year so I can hear and provide other opinions and perspectives to the listeners. I am also excited to explore more complex topics about society and human nature, as this is something I have been extremely fascinated by for months now.
Morning hike or morning reading session?
I love morning exercise. Moving in the morning helps me so much with my energy throughout the day. If I start reading a book in the morning, I'll end up going back to sleep…
What's on your ideal Sunday playlist?
Definitely something mellow. Pale Blue Eyes by the Velvet Underground, Clairo's album "Sling," any song by Beach House, etc…
What's your favorite version of the Super Puff and why?
I love the Hi-Gloss Super Puff Shorty in any color and the Super One-Puff, also in any color. The slightly cropped fit of these two styles is so flattering and easy to style. I love how versatile the Super Puff is, and how you don't have to sacrifice warmth for style… I have worn my Super Puff in 10 degree weather and it's kept me warm. I style the Super Puff in so many different ways. It works for a sporty look or a preppy look, and everything in between.
What's your favorite piece from the new collection? Why?
My favorites would probably have to be the Tutor Zip Up, the Rider Pleated Skirt, and the Kitridge Skirt and Blazer. All of these pieces are perfect springtime staples that I can guarantee I will be wearing non-stop. The zip ups are so comfortable and amazing for layering, you can dress them up and down depending on your vibe that day, and they work for so many different styles. The rider mini skirt is a serious closet staple. I can't stress this enough. You can wear those skirts with anything. The Kitridge set is so preppy yet casual. I can totally see myself wearing it to run errands, or go to a meeting.
What's the best TV show to binge on a lazy Sunday?
I love light-hearted TV. How-To with John Wilson is an incredibly satisfying show to binge, YOLO Crystal Fantasy is the funniest animated series I have seen in a long time, Fuck That's Delicious makes me smile every time I put it on, and rewatching The Office for the 70th time never hurts.
Shop Emma's favorite pieces from the Sunday Best collection, plus outfits from her Sundays with Emma video here:
.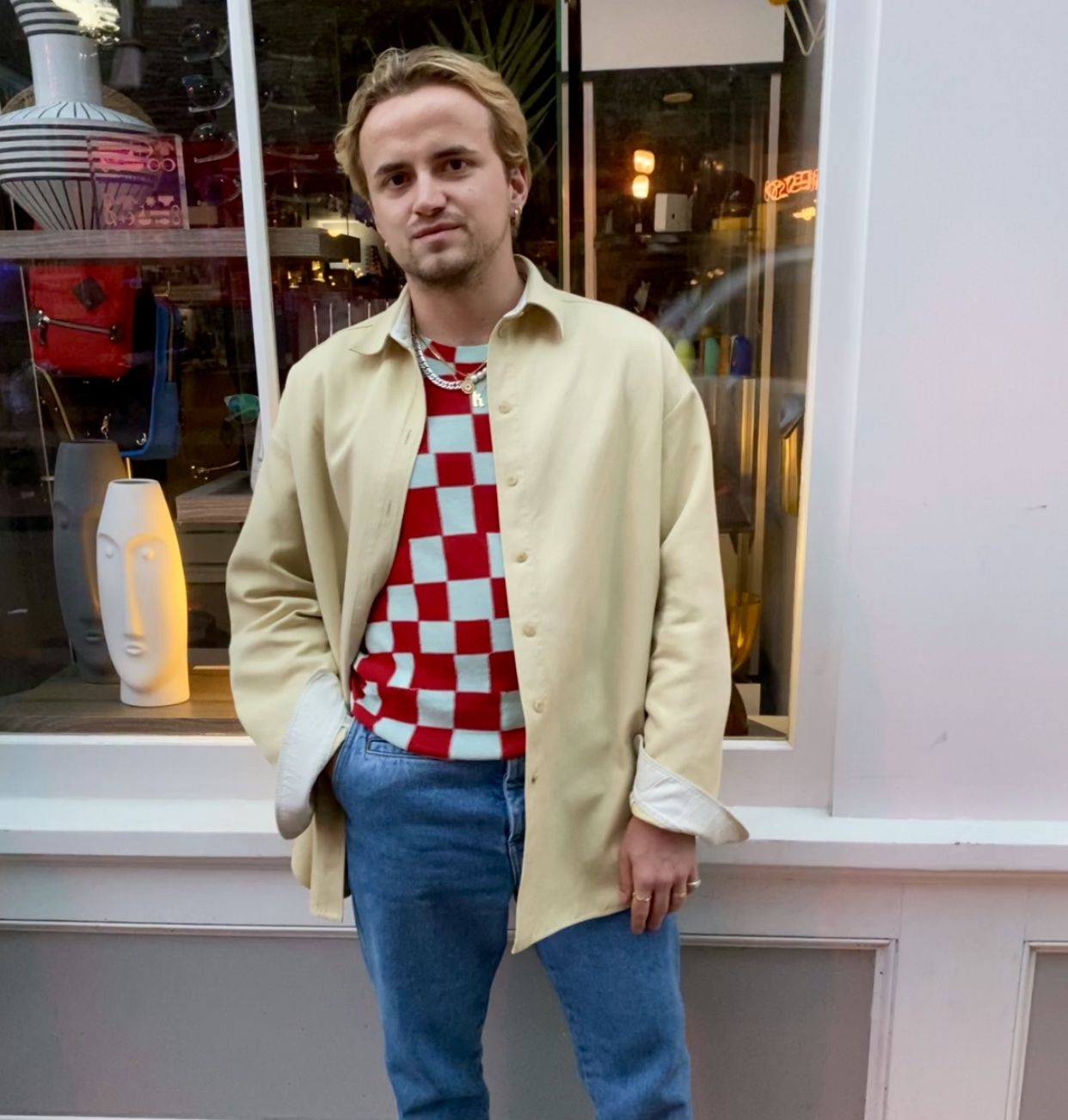 Kevin LeBlanc is the Fashion Associate at ELLE Magazine. He covers fashion news, trends, and anything to do with Robyn Rihanna Fenty.