It's hard not to be in awe of Naomi Osaka. The 25-year-old powerhouse tennis pro is a four-time Grand Slam singles champion with two US Open and two Australian Open titles. Oh, she's also founded a skincare brand, a talent agency, and a girls' tennis academy, and she's written a children's book. Last month, she announced that she's expecting her first child with her partner, Cordae, which means she's about to enter motherhood. All that subsides when I sit down with her to discuss her collaboration with Victoria's Secret, along with her excitement around becoming a mother and what's next for her in this new chapter.
The star's demeanor was sweet, calm, and collected—an air reflected in the relaxed, oversized, and sustainably-made designs—as we spoke about the design process, how confidence is key, and what she does for self-care before we took part in a meditation session. Sure, the mother-to-be may be a little nervous about a new challenge, but if I took anything away from our chat and her collection, she knows how to keep it chill.
---
How will your collaboration amplify Victoria's Secret's initiative to be a diverse and inclusive brand?
For me, just seeing someone like myself in stores and also having the opportunity to collaborate with Victoria's Secret is a really good step forward. Growing up I never really saw myself in storefronts; that's a really amazing step and I'm honored to be included.
Your Japanese/Haitian cultures frequently inspire your style choices. Will we see that in the new collection?
I definitely always try to include it in everything that I do. I think that you can see that a little bit in this collection because there are dawn and dusk moments that I think are two very different things, like Japan and Haiti. For me, that would be the most obvious and then there are little trinkets here and there.
What are you looking forward to most about motherhood and starting a family?
Probably the challenges. I really love just learning new things and I'm sure I'm going to learn a lot of new things about myself and about the person who's going to be in my life now. It's definitely going to be a really cool journey.
Do you plan to teach your children tennis?
If they want to, out of fun. I can't imagine them seeing me play and not wanting to do it, but I just want them to pursue what they want and enjoy their lives.
You started out in tennis, but you've expanded into so many other industries. Are there other things you're still hoping to do?
There are a lot of things that I still hope to do. Every time I do something or collaborate with a company, I learn so much. Working with Victoria's Secret has been so amazing; they've been so kind to me and so willing to show me the process of everything. I've worked with a few different companies and the process wasn't like that. For them to be this big and this open has been really amazing, and I'm looking forward to new adventures, too.
What has been your favorite part of the design process?
Just being on calls with them! [Their team being] willing to ship fabrics so that I can feel the material and ask for my approval on things that I really didn't think they would ask for my approval on, it's something that's really humbling.
How do you keep things sexy with your partner?
Being sexy is about being confident in yourself. Honestly, for me, it's just being comfortable with who you are as a person. I think that's what's so cool about the collection having so many different styles. I like oversized shirts a lot—I tend to go to sleep with just a really big oversized shirt—but there are robes and panties and bras, and they're all made with recycled materials, so that's really cool.
What do you do for self-care?
I like to relax with my friends or my dog, who's always by my side. I've been reading books lately and lighting a candle and trying to center myself.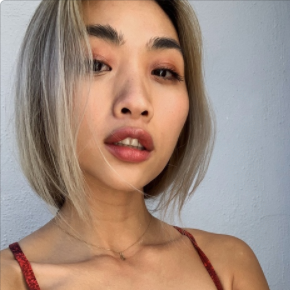 Dale Arden Chong is the Senior Fashion Commerce Editor at ELLE.com. Previously, she was an editor at MensHealth.com and has written for Who What Wear, GLAMOUR, The Coveteur, and more. She loves fashion, food, and art, among other things—but her greatest love is K-pop idol V of BTS.