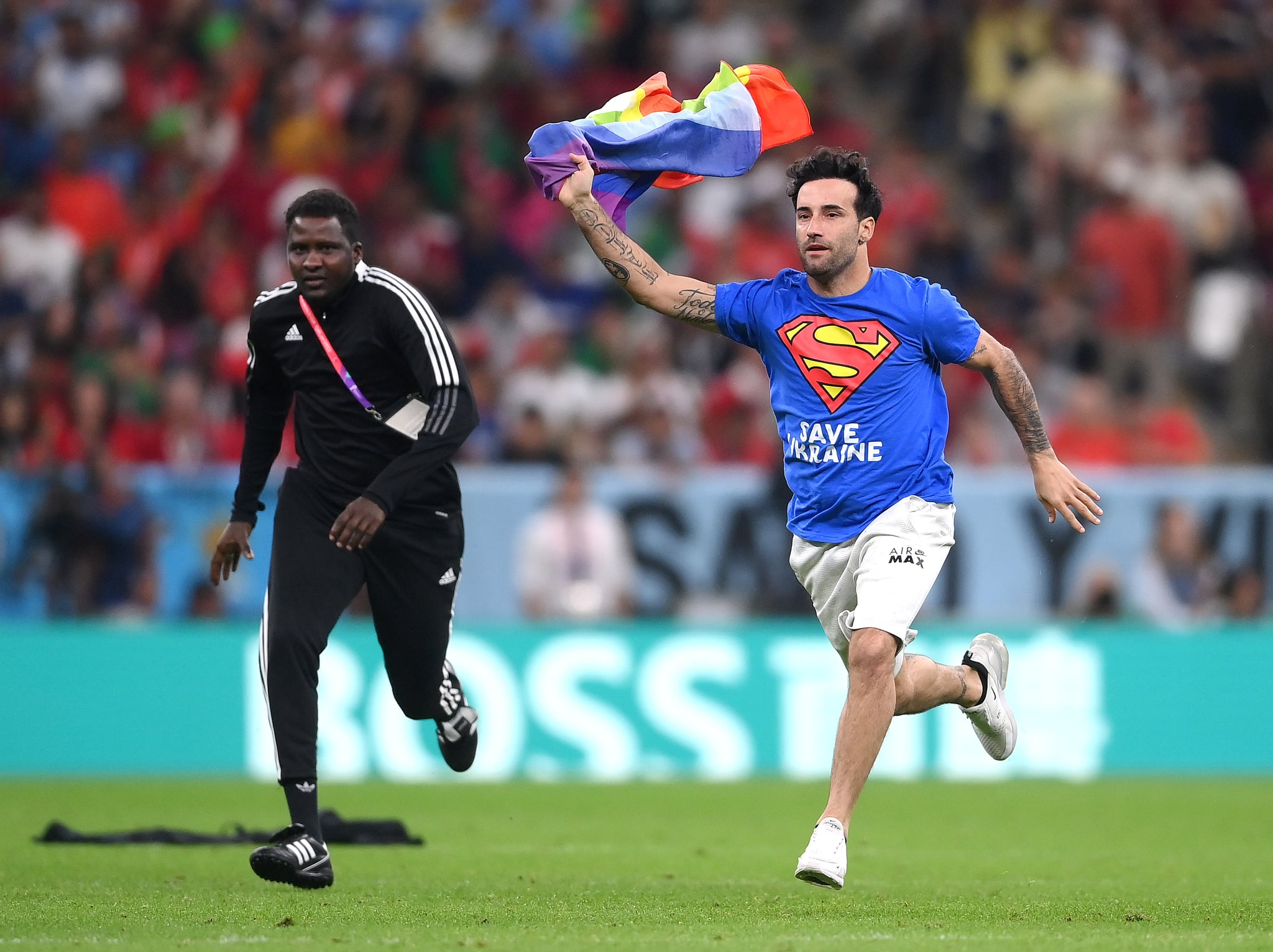 The FIFA World Cup is well underway in Qatar, despite outcry for the alleged violations of human rights and its hostility towards the LGBTQ community. In response, players and attendees are making a statement against the anti-LGBTQ laws and sentiment held in the country.
On Monday, during the second half of the soccer match between Portugal and Uruguay, a fan ran onto the field with a rainbow flag and a blue Superman T-shirt that said "SAVE UKRAINE" on the front and "RESPECT FOR IRANIAN WOMAN" on the back until security escorted him off, per NBC.
The performance directly addressed the anti-LGBTQ+ policies of the conservative Islamic emirate that adheres to Sharia law, including the criminalization of homosexuality. The nation's laws against same-sex activity and overall treatment of the community were criticized leading up to the World Cup being held in the Middle East. While Qatar has said everyone is welcome, including LGBTQ+ fans, they also clarified that visitors "should respect the nation's culture," according to AP News. Those who wish to wear rainbow colors are asked to refrain.
But Mario Ferri il Falco, the man identified as the flag-waving pitch invader, wanted to make a statement. In an Instagram post mentioned by CNN (Falco's account is no longer active, it appears), the protestor explained his motive for running across the field. Translated from Italian, he addressed FIFA banning captain armbands with rainbow and human rights flags in the stands. "They blocked everyone BUT NOT ME, like a Robinhood 2.0 I carried the message of the PEOPLE 🏳️‍🌈 We want a free world that respects all races and all ideas," he writes.
Falco isn't the only World Cup attendee to push back against the rules.
"This is not about a political message: human rights are non-negotiable."
Last week, two German soccer fans, along with an American journalist Grant Wahl and former Wales captain Laura McAllister, were told by security told to remove their rainbow-colored items while trying to enter World Cup matches, CNN reports.
Plus, in the first week of the tournament, FIFA stopped seven European teams from playing with rainbow armbands, a symbol of support for LGBTQ rights, saying they would receive yellow cards if they did, per AP. Germany players made a statement by covering their mouths in a team photo after being threatened with sanctions if they wore their One Love armbands, per Indian Express. The German national soccer team tweeted, "Be loud together with other nations. This is not about a political message: human rights are non-negotiable."
And in case the gesture wasn't self-explanatory, the team went on to say, "Banning us from the bandage is like banning our mouths. Our stance stands."
Image Source: Laurence Griffiths / Staff / Getty