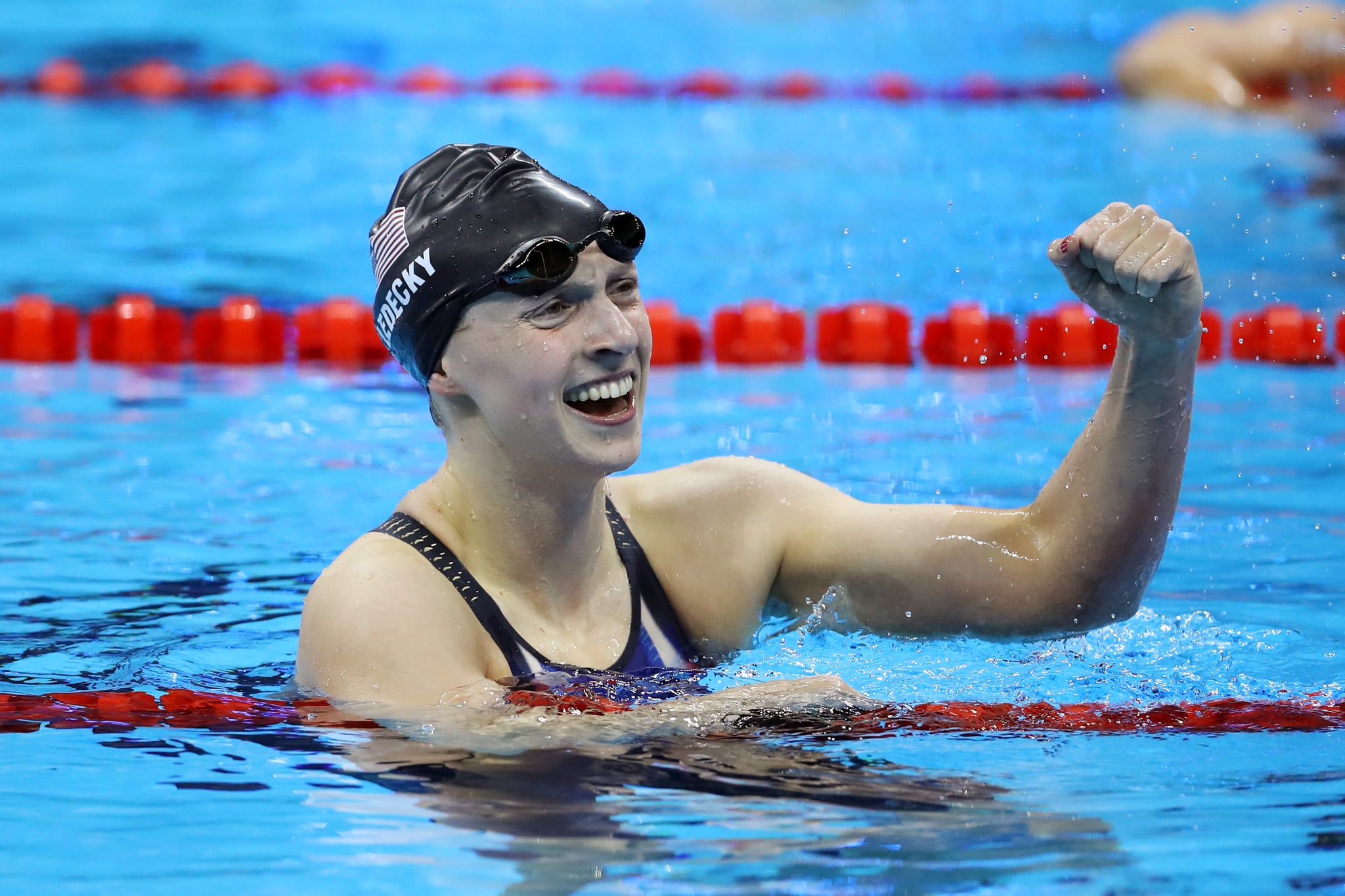 Five-time Olympic gold and 15-time world gold medalist Katie Ledecky is prepping for the Tokyo 2020 Games the best way she knows how: by getting in the water. From now until the Olympic trials in Omaha, NE, this coming June, she'll have competitions about once a month, and her weekly training will consist of 10 swim practices and three weight-training sessions, she told POPSUGAR over the phone during the Team Visa Summit (she's officially on the Team Visa roster alongside greats like Simone Biles, Megan Rapinoe, and more).
Katie made her Olympic debut as a 15-year-old at the London 2012 Games, where she clinched gold in the 800-meter freestyle. Four years later, she left Rio 2016 the most decorated female athlete of the Games, having won gold in the 200-meter, 400-meter, 800-meter, and 4×200-meter freestyles and silver in the 4×100-meter freestyle. This time around, the only thing Katie will be changing strategy-wise is adding more distance to her regimen.
"The 1,500 freestyle is now an Olympic event, and that's one of my best events, so that just means I'll be able to swim that in the Olympics hopefully," said Katie, who has beat the world record in the 1,500 meter six times so far. "I'm continuing to do my distance training as well as my training for the middistance races, so it's just a big range of events that I'm hoping to compete in at the Olympics."
Katie, now 22, told us, "I think having such a great experience in 2012 and being able to learn from all the veterans and really learning how to feel comfortable at that level prepared me for 2016, and now, moving forward to 2020, I feel like I'm a little more of a veteran on the team since I've had the experiences that I've had competing internationally. I hope that I can help out some of the younger swimmers or the first-time Olympians along their journey."
The Olympics, Katie said, are such a unique experience "where all of these athletes from different countries at the top of their sports are together in this village for a week or two weeks." She advises newcomers to embrace that experience and take everything in. For swimmers specifically, she wants them to remember that they've made it to the world stage for a reason and the logistics of the events haven't changed. "It's the same pool, it's the same length, it's the same distance that you've competed in, and once you're on Team USA at the Olympics for swimming, you've already gotten through our Olympic trials, which are very difficult and a high-pressure situation. So you're prepared once you've made it to the Olympics."
Before major competitions, Katie said she likes to get to the pool early and "stick to the basics" with what she's eating. She tries to keep a good balance of protein and carbs, and leading up to a final race, she'll have a peanut butter and jelly sandwich or some plain pasta with olive oil and parmesan cheese — "just something that won't upset my stomach . . . especially when I'm competing in foreign countries," she said.
Katie didn't mention a pump-up playlist, but when asked if there are any songs she'd choose to swim to during her races, she said, "I would probably have to pick some sort of song that, if I could get it underwater, works to the beat of my stroke." She laughed, then added, "I'd have to spend a lot of time figuring that out to get it down just right."