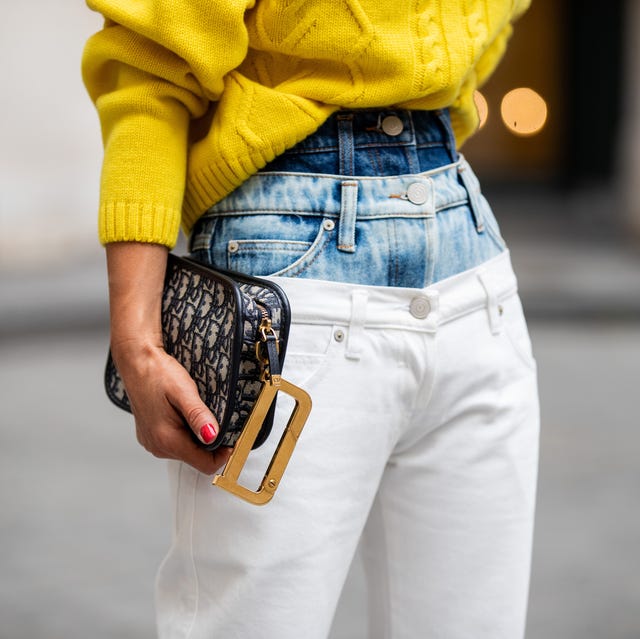 Christian VierigGetty Images
"I had a C-section, so I was nervous to wear jeans at all," said art history professor Meredith Greif. The simple task of finding well-fitting postpartum clothes—beyond a comfy pair of leggings—can be utterly monumental. Between sleep deprivation and the tremendous change your body and psyche undergo, fashion might not be your top priority. But (and read this sentence again) it can help ease you into post-baby life. The task can feel daunting if you've never been there, so we asked nine women who have.
From the paper thin jeans Greif said didn't irritate her scar to structured high-rises that the hold newly-loose zones in, we listed the ultimate mom jeans (for actual moms), here.
Advertisement – Continue Reading Below
Rib Support Jeans
Ribcage Flare Jeans
Levi's
shopbop.com
$98.00
"Levi's' Ribcage does exactly what it claims: Holds you in up to your ribcage. Post-baby, that's the kind of support I need. I also am loving corduroy this season and the wine color makes it extra "70s mom.'"—Aya Kanai, Fashion Director, mom to Rei, 20 months old
Thin Stretch Jean
Jodi Crop Slit Flare Jeans
AG
nordstromrack.com
$109.97
"I had a C-section so I was nervous to wear jeans at all. I also lost weight quickly so I typically did not need to buy new clothing post-baby. But I fell in love with the opulent stretch-velvet jeans from AG in super black. The thinner, high-waisted denim with super stretch material didn't irritate my scar."—Meredith Greif, Art History Professor, mom to Max, 3 months old
Sucks You In Jeans
High Rise Ankle Crop
Re/Done x Levi's
revolve.com
$325.00
"My favorite jeans are Re/Done x Levi's because of the high waist. It feels like it holds me in!"—Jennifer Galante, Digital Strategy Consultant, mom to Cara, 4 years old
Waistband Panel Jeans
Mama J Super Skinny Maternity Jeans
J Brand
shopbop.com
$198.00
"I lived in my Mama J jeans throughout my pregnancy, and for the first few months after. Comfort became my number one priority, but I also didn't want to sacrifice my style and these jeans fit the bill. Worth every penny."— Valeria Sosa Mantica, Advertising Account Director, mom to Mateo Mantica, 1 month
Non-Jegging Jegging
The Authentic Stretch High-Rise Skinny Jean
Everlane
everlane.com
$68.00
"Post-baby I wanted jeans that were both comfortable and stylish, and didn't scream 'jeggings.' I love these from Everlane because I knew that once I lost my baby weight I could still wear them."—Benedetta Amadi, Interior Designer, mom to Olimpia, 17 months
Ultra High-Waisted Jeans
Tapered Leg Jeans
Cos
cosstores.com
$115.00
"I had enough stretch jeans during my pregnancy. Thereafter I searched for a high-waisted pair that still kept everything in place, but were loose enough to not compromise on comfort."—Nina Solomon, Art Director, mom to Levi, 2 years old
Back-To-Work Jeans
WOMEN U FLARE ANKLE JEANS
"I lived in these jeans after having my second. I went up a size and altered the legs so it was fitted around the thighs, but it gave me a bit more room in the waist band. I felt put together and polished when on the inside I felt the opposite."—Laurie Clark, Publicist, mom to Baker, 3 months old
Maternity to Post-Maternity Jeans
Mama Skinny Jeans
"I was able to still feel like I was wearing my old jeans while being totally comfortable thanks to the super soft and stretchy belly band.  I loved how these jeans kept their shape with enough cotton and not too much elastic."—Carly Cardellino, Beauty Director, mom to Delfina, 10 months
Comfy Stretch Jeans
Sarah High Waist Slim Straight Leg Jeans
Paige
nordstrom.com
$186.15
"I did the Rent the Runway unlimited membership when I was pregnant, which gave me access to endless, amazing options. I kept the membership and actually found two pairs of jeans right now that I love, including this cropped pair from Paige."— Meghan Fishman, Sales Operations, mom to Mila, 10 months old
Advertisement – Continue Reading Below