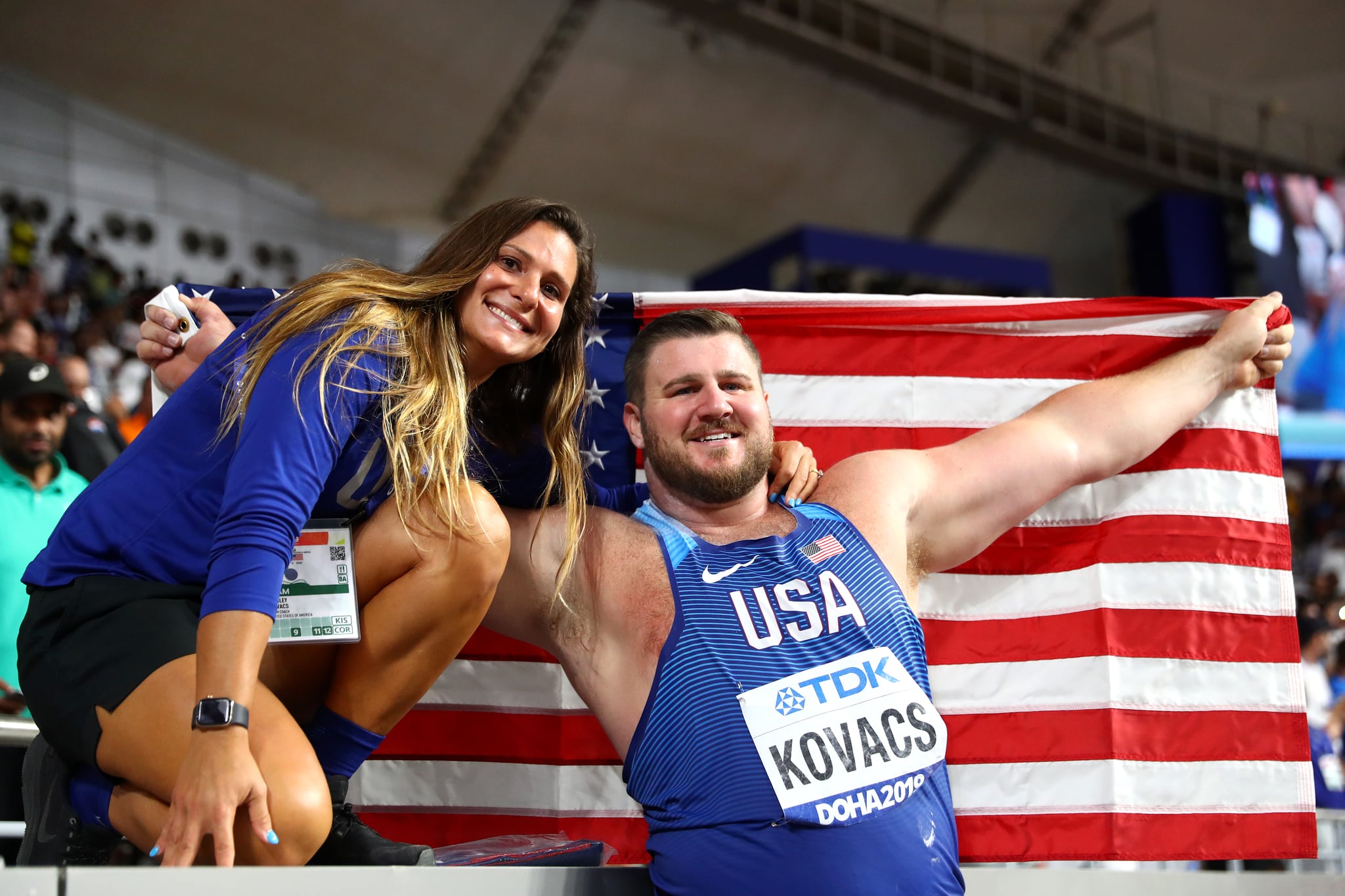 When Joe Kovacs went up for his final throw at the 2019 IAAF World Athletics Championships in Doha, Qatar, he was in fourth place and his wife was right there with him — and not just metaphorically. As the men's coach for Team USA and Joe's personal coach, Ashley told him right before his last turn, "Take a chance. Trust yourself and go after it and see what you can get. You have nothing to lose at this point." He then threw a personal best 22.91 meters and claimed gold by a mere one centimeter. It was the farthest throw in 29 years, according to NBC Sports, and equalled the third-farthest in history.
Ashley, who's going into her sixth year as the throws coach at Ohio State, started throwing when she was around 12 years old, and continued it throughout college at the University of Kentucky. She was a four-time All-American and, senior year, was runner-up in shot put at the 2010 NCAA Indoor Championships. What's kept her hooked on the sport is the fact that you can always improve. "One of the things I think that intrigued me and still intrigues me is that it's a work in progress," she told POPSUGAR. "No matter what level you're at, no matter if you're a beginner or you're the best in the world, there's always something that can be better."
Ashley said she's wanted to coach since she was recruited for throwing in college. This year, she led her first-ever national champion to victory, and she credits her success to intuition and a connection she's able to foster with her athletes — even the ones she's not married to. "The more you get to know your athletes and the more that you trust them and you have a relationship with them, the better you are with being able to call upon your intuition on what to do with them," she said. "And it doesn't just stop at like the Xs and Os of the technique and the weight training, it also transcends into the personal aspect of it. If they get into a position where they're having a rough meet and they need to get a throw, it's knowing what to say to them. It's knowing how to talk to them, how to connect with them, to bring out their best at that time. And I think that's something that separates coaches."
"When I first started coaching guys, I had a couple that I feel were tripped out by it. And I was just like, 'Listen, when you throw farther than I did, then you can stop listening to me.'"
Ashley continued, "When I first started coaching guys, I had a couple that I feel were tripped out by it. And I was just like, 'Listen, when you throw farther than I did, then you can stop listening to me. But until then, let's just stay on the same page.'" Coaching Joe, she said, differs in a sense from coaching her collegiate athletes because her husband, who won an Olympic silver medal in Rio and took home gold at the 2015 World Championships and silver in 2017, knows what to do; he just needs to be reminded of what he wants to work on or goals he's set. "You're steering the ship with the collegiates," she explained. "But Joe's been doing this at a high level for a really, really long time."
Ashley said, "I think the misconception of the whole thing is I wake him up out of bed with a whistle every morning like, 'Drop and give me 20.' And it's nothing like that at all." Instead, their connection as partners in life, she said, helps their dynamic. "Maybe in a normal coach-athlete situation, you're not as willing to be that vulnerable or expressive about how you're actually feeling." And though she said she's not at every meet, she's there for almost every practice (weightlifting and throwing), and it's more of collaborating than coaching.
That collaboration was key early on when, after moving to Ohio in Fall 2017 to start a life with Ashley, Joe experimented with a new technique that he worked on with long-time coach Art Venegas. Joe struggled with that technique, lost his passion for the sport, and was considering retirement. Ashley officially transitioned into coaching him full-time at the start of 2019, she said, and feels her love of coaching also played a part in Joe's decision to stick with his athletic career.
In fact, Joe will always say that Ashley likes shot put more than he does. "I might," she admitted. "My role and what he does as an athlete, it's not the same. But I just really like it, you know? And I like the way that it challenges you." It's this challenge that Ashley said she wanted Joe to take hold of when he was thinking of retiring. "It was a good opportunity for him to see what he was really made of."
"He was in a dark place, he was at a low point, and he fought his way out of that. And I think my role was just believing that he could."
Joe already has an automatic bid to the 2021 World Championships, Ashley said, so his main goal now is to prepare for the Olympic Trials in June, where the top three will qualify for Tokyo 2020. In the event that Joe makes it, this will be Ashley's first time coaching at an Olympic Games, and it'll be Joe's second Olympics. "If he does the best that he possibly can, I feel very confident about his chances of making the team," Ashley said.
Ashley said that part of her coaching style is pointing out when Joe is showing signs of promise, and that's what she believes helped drive him through the roadblocks he faced not too long ago. "A combination and accumulation of those little moments gave him the confidence to trust himself and trust his experience to allow him to be at his best at the right time," Ashley said. "I think the thing about this whole thing that makes it so inspiring is the fact that he was in a bad spot. He was in a dark place, he was at a low point, and he fought his way out of that. And I think my role was just believing that he could."