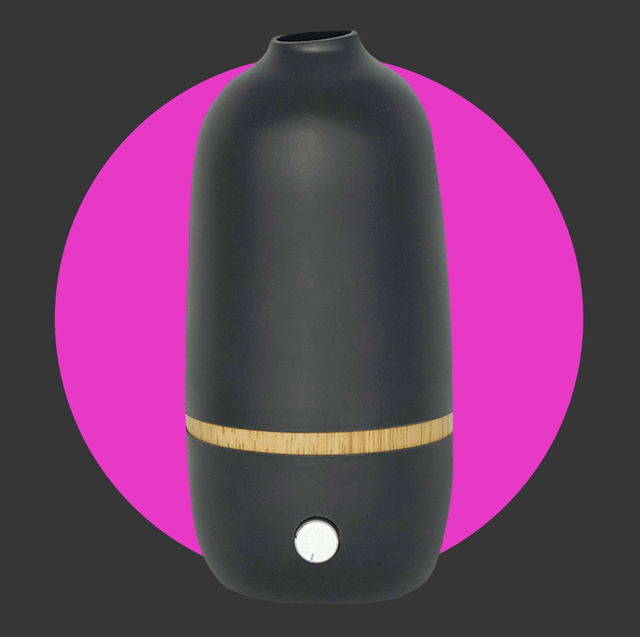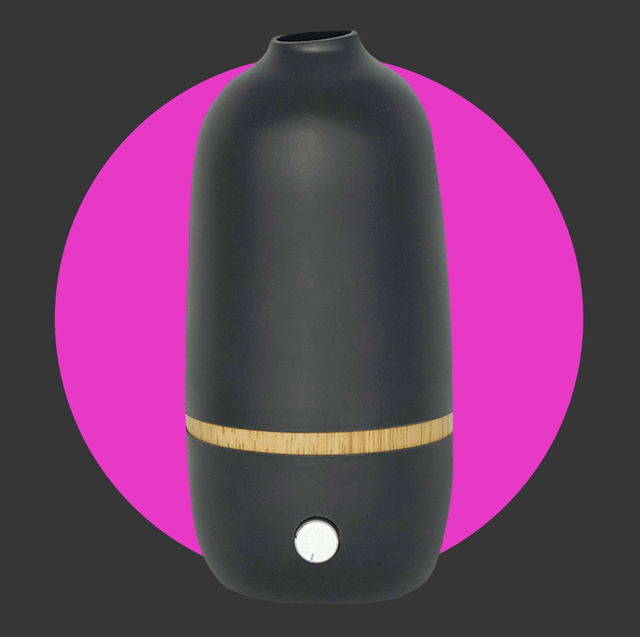 Amazon, Free People, Kohl's
Essential oil diffusers are a great way to make your home smell delicious, but did you know they also have psychological and mental health benefits? According to a 2013 study, essential oils are scientifically effective at stabilizing your mood and reducing anxiety. A good diffuser—unassuming, sleek, small, stable—for your essential oils is a step in the right, relaxing direction. We compiled a list of the best diffusers that will bring you good vibes and look great in your home, ahead.
Advertisement – Continue Reading Below
1
For the Anxiety-Prone
Jasmine Aroma Diffuser
Stadler Form
kohls.com
$59.99
Never go out and ask yourself, "Did I leave my diffuser on?" again: This bowl-shaped model comes with a convenient auto shutoff. For intermittent diffusing, set it to interval mode (10 minutes on and 20 minutes off) so your home always smells relaxation ready.
2
For the Modernist
Ona Diffuser
Ever been stuck with a diffuser that comes on too strong? Now you can adjust levels for a more subtle scent. Paired with a modern design of bamboo wood and glass, it's the perfect option for beginners.
3
For the Minimalist
Serene House Portable Ultrasonic Aroma Diffuser
Serene House
amazon.com
$29.99
If you're into minimalist decorating, this simple and sleek design from Serene House is the diffuser for you. The no-fuss model is portable and ideal for relaxation on-the-go. Plus, it comes in muted colors like grey, black, and white, that will look good wherever you take it.
4
For the Marble Lover
Aureole Cold Air Diffuser
JIA Inc.
freepeople.com
$200.00
Most diffusers are designed to blend in, but this model is a clear stand out. Carved from marble stone, Aureole's diffuser is a chic statement piece, while filling your home with your favorite scents. It also comes in two different designs and finishes—gold and round or brass and square—depending on your decor preference.
5
For the Millennial Pink Lover
Stone Diffuser
Vitruvi
sephora.com
$119.00
This millennial-pink stone diffuser belongs in an art museum. The pink ceramic base uses ultrasonic technology to diffuse, instead of heat the oil, to deliver a scent that can fill up to 555 square feet. If you live in New York, that means your entire apartment (if you're lucky)!
6
For The Scientist
Aria Diffuser
Young Living
amazon.com
$235.00
A maplewood base and removable glass dome that directs the oils upward? Oh my. It also includes multi-colored LED lights and built-in-sounds to create a full-fledged big mood. You can see the caldron of diffusers in use here. 
7
For On-The-Go
Aroma Therapy Ultrasonic Essential Oil Diffuser
Everyone
amazon.com
$28.85
A diffuser for the on-the-go gal. The portable machine uses a fan to spread the oils scent so it's easy to bring to work or move around your house. It also has a night light, which is great for a kiddo or for atmosphere.
8
For A '70s Obsessive
Directional Mist Ultrasonic Diffuser
SpaRoom
bedthatandbeyond.com
$19.99
If the lava lamp got a 2018 upgrade, it would be the this groovy piece. The panel projects an array of soothing rainbow patterns and the unit has an automatic shut-off in case you doze off mid-mood.
9
For The Sci-Fi Lover
Essentail Oil Diffusers
Airome's diffusers are a bit on the wild side. You can choose from sixteen unique designs, all of which use ultrasonic technology to burn your oils. We're especially fond of of this ceramic white top and black base, which feels more mod succulent planter, less sci-fi pod.
10
For The Budding BH
Ultrasonic Diffuser
Mogu
urbanoutfitters.com
$60.00
Beats plus scents. The Mogu Diffuser allows you to diffuse your favorite oils (it comes with one lavender oil to try) while listening to your favorite songs through its bluetooth speakers on the base of the machine. May we suggest a relaxing meditation track? Or some Billie Eilish?
11
For The 4/20 Friendly
Glass Aromatherapy Essential Oil
Yes, this glass diffuser looks a little like a bong…and that's a good thing! No two hand-swirled designs are alike, plus they come in a range of shades like magenta, cerulean, and mossy cannabis green. 
12
For The Accent Piece
UltraSonic Diffuser
Add a bit of polish to your home with one of these jewel toned metallic diffusers. It's a unique decorative diffuser that will leave guests wondering where you got such a cool piece of art (And why your house smells so good).
13
For The Hippie
Dream Essential Oil Diffuser
Anthropologie
anthropologie.com
$78.00
This porcelain diffuser is exactly what your coffee table needs. The center flower absorbs, then dissipates the oil into the air, to leave your home smelling of African daisy or  Moroccan peony. 
14
For The Wannabe Morning Person
June & May Diffuser With Built-In Speaker
Anthropologie
anthropologie.com
$60.00
Get a diffuser that can do it all. The June & May Diffuser boasts a clock and bluetooth speaker. You can wake up to the sweet sounds and smell of a new day. 
Advertisement – Continue Reading Below