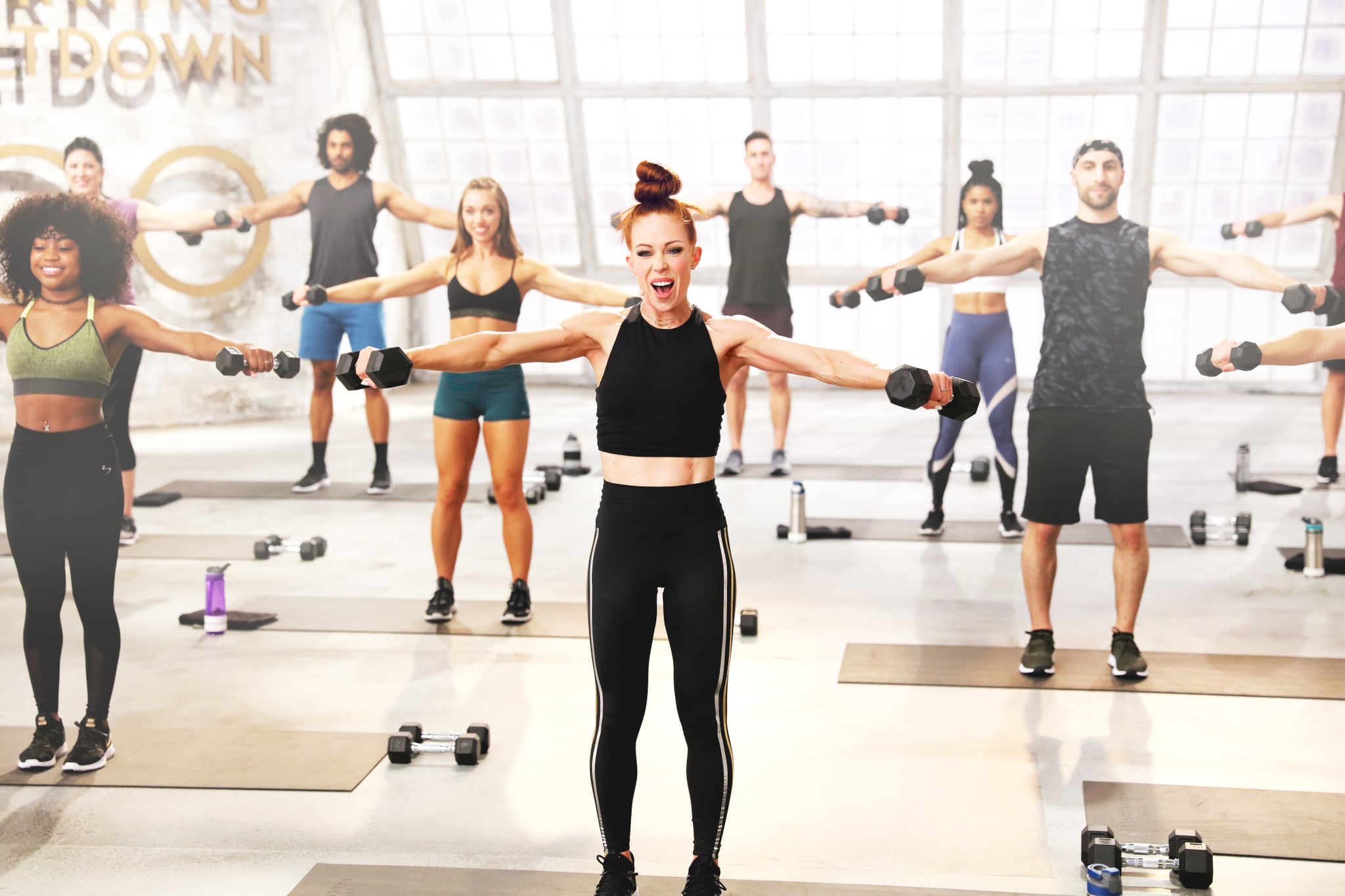 As much as I love workout videos, there comes a point when your old favorite gets a little repetitive. And look, I've been known to follow the same videos for years on end; looking at you, Insanity and Jake DuPree from Class FitSugar. But even when the workouts themselves were still challenging, at some point I started to crave a change of pace.
Beachbody's newest program, Morning Meltdown 100, went all out to meet that need. The "100" in the title refers to the number of unique workouts in the program. You're meant to do one each day (preferably in the morning, but really whenever you can get it in) for 100 days. So unlike many other video-based programs, you don't repeat the same workout every week or two weeks. The point is to go down the line and hit every single video, one through 100.
Beachbody gave me the chance to try out the unique program, and I honestly wasn't sure what to expect. After 12 workouts, I have to say I'm impressed.
What I Liked: Music, Variety, and Challenging Moves
Each workout consists of a short warmup, two or three circuits of cardio or strength-training exercises, and a quick cooldown. Altogether, one video can range from 20-30 minutes in length, led by trainer Jericho McMatthews and a crew of badass men and women behind her.
Jericho felt like your cool, understanding friend who just so happens to have chiseled abs and tons of challenging, creative exercises up her sleeves. She made me feel motivated and empowered whether I was dropping down to a modifier or picking up my heaviest weights. And one of the coolest elements of the program is that each workout is set to a live DJ who's actually in the studio with the team. It's not just a stunt, either; midcircuit, Jericho will ask for a faster or slower tempo based on how difficult or complex the move is. I'm obsessed with on-beat workouts, so this was a huge selling point for me; staying with the pace of the music is both motivating and a big challenge.
The variety of the program meant that every day had a fresh workout I'd never seen before. I was surprised at how much this motivated me. In the past, repeating workout videos meant I'd remember which exercises I really dreaded, which led to me putting off the workout for hours to avoid the pain I knew was coming. With Morning Meltdown 100, the only thing I knew about the day's workout was its focus (cardio, strength, HIIT, recovery, or "fight club") and what equipment I needed. It was like going to an in-person class, where you're not sure what's in store but you're excited (and maybe nervous) to find out.
The workouts themselves were challenging and introduced me to a lot of moves I'd never seen before, like burpee bolts, a cross between a mountain climber and a burpee, and weighted bravehearts for your core and upper body. Strength workouts focused on either upper body, lower body, or core and typically incorporated weights. Cardio days pushed the pace with bursts of sprinting and jumping exercises. (One cardio workout wrapped up with 100 seconds of giant side skater jumps, which left me coated in sweat.) Fight-club workouts, which were some of my favorites, included kicking and punching in a variety of fighting styles like boxing, Muay Thai, and karate. While Morning Meltdown 100 wasn't the hardest workout program I've ever done, I could feel the speed and difficulty of the moves ramping up even through the 12 workouts I did. And it's not like I wasn't feeling the effects of them. The combination of weight training with jumping moves had my glutes alone sore for a solid week.
Each move also comes with multiple levels of modifications. I'd definitely recommend using these, as many of the moves are high-impact and challenged not only my strength and speed but also my balance and agility.
Potential Downside: You Do Need Weights
The strength-training workouts are most effective if you have access to weights, which I know can be an issue for those of us who work out exclusively in our living rooms. If you have a gym membership, you can do what I did: download the day's workout on your phone via the Beachbody app, then queue it up in an empty class studio. (Using the app also lets you track calories and other stats through an Apple Watch, if you have one.) If you prefer at-home workouts, I would invest in at least three pairs of dumbbells at light, medium, and heavy weights. (If you aren't sure how heavy your weights should be, check out this guide.) You won't typically use them all in one workout, but the different weights give you the option of dropping down to a lower weight or challenging yourself with a higher one. It's worth noting that the cardio, fight club, and recovery workouts are usually bodyweight only.
On the whole, though, I think these workouts are effective, motivating, and accessible regardless of your fitness level. And in a very crowded fitness world, I'm always excited to try something I've never done before, like a video program with 100 unique workouts. As long as you have the equipment, Morning Meltdown 100 is a good choice for anyone wanting to make a commitment to a longer program (remember, 100 days!) that's completed one short, intense workout at a time. If you want to try it out for yourself, you can check out the sample workout available on YouTube (for free!).
Image Source: Beachbody