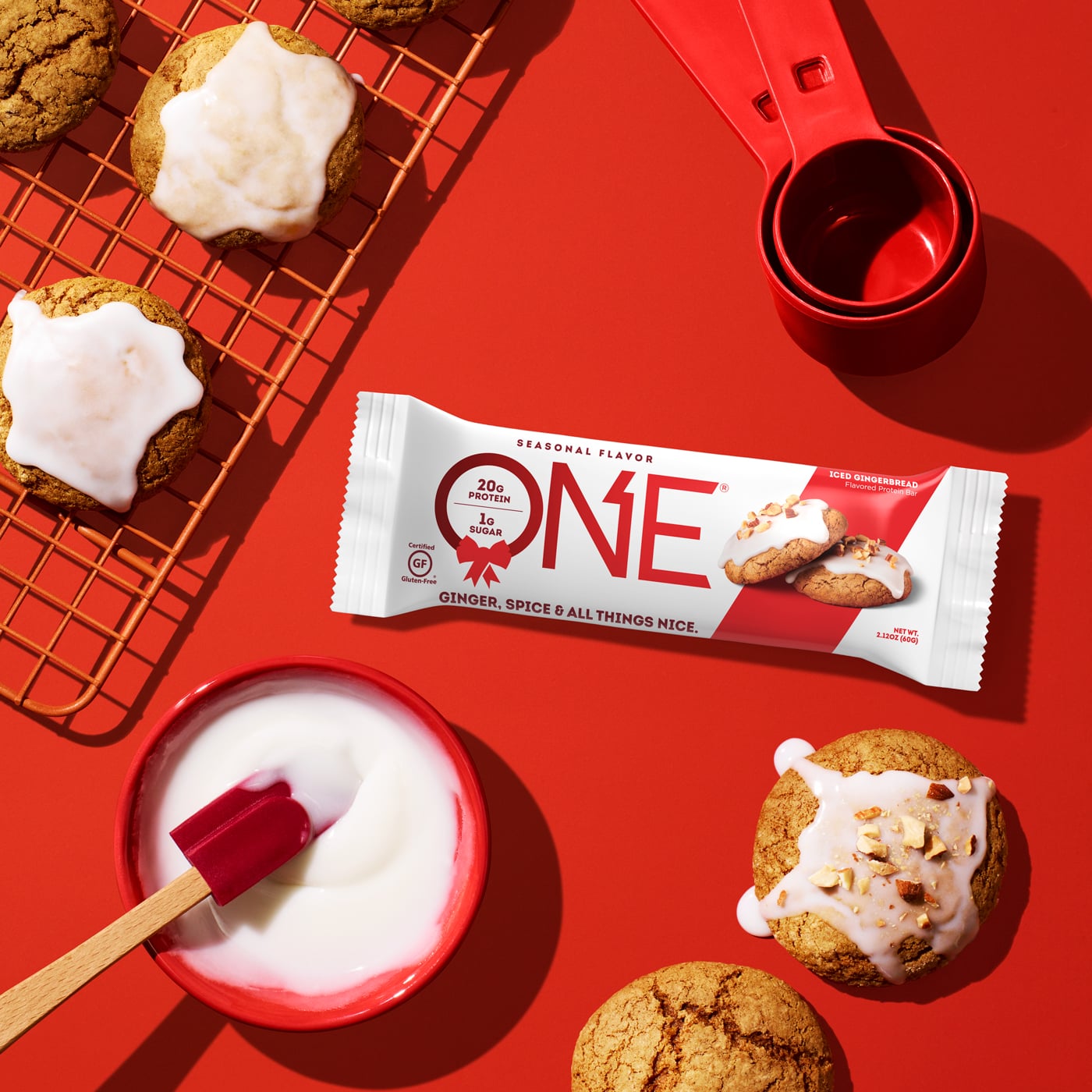 Protein bars are the gifts that keep on giving, at least for me; they're the presents I give myself during my workdays for fuel or after my workouts to help my muscles recover. And, there's nothing better than bars that tip their hats to the changing seasons and familiar, almost whimsical feeling of home, especially when they taste like the holidays. The new Iced Gingerbread One Bar is no exception, hence why I was eager to share the cheer (and news).
Each Iced Gingerbread One Bar is packed with 20 grams of whey and milk protein isolate and has 9 grams of fiber, 230 calories, 23 grams of carbs, and only 1 gram of sugar. You get sweetness from the icing and, as you chew, the ginger and spice flavors come through. There's also a slight crunch from the almonds on top. I'm Jewish and even I am transported to Christmastime. (Note: yes, I celebrate Hanukkah, but I have experienced Christmas, too. In fact, the bars get me in the mood to drink eggnog in my Christmas morning pajamas gifted to me by my boyfriends's parents.)
This particular bar does contain nuts — almond butter and almonds to be exact — as well as dairy. There's dairy in the protein — milk protein isolate and whey protein isolate — and in the form of nonfat dry milk. If you're looking for vegan options, though, One Bar does make plant-based flavors.
You can buy the Iced Gingerbread One Bars ($25 for 12) on Amazon and the One Brands website, or from select stores. A spokesperson confirmed they're available through November at Trader Joe's, Vitamin Shoppe, and GNC.
Moral of the story? These bars are filling, taste great, and put me in the holiday spirit. My favorite One Bar flavor that I've tried so far is Maple Glazed Donut, and another POPSUGAR editor on the fitness team loves Almond Bliss, but I definitely recommend giving Iced Gingerbread a taste if you're in the mood for sugar, spice, and everything nice (minus the actual sugar, plus the protein and festive feels).
Image Source: One Brands