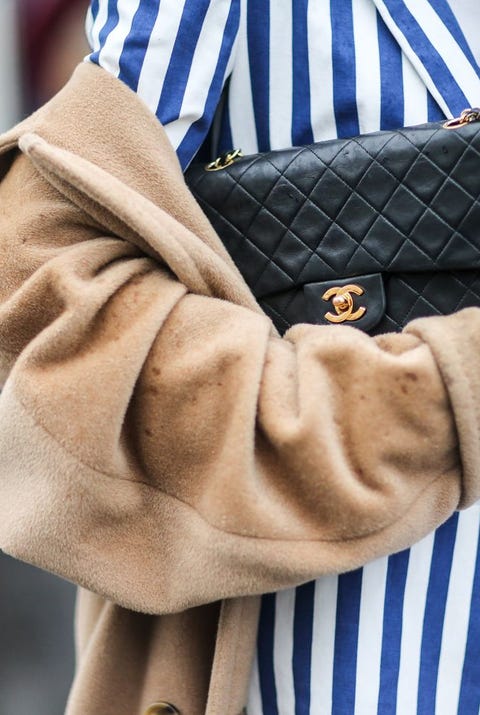 Edward BerthelotGetty Images
People are shopping secondhand now more than ever. The recommerce industry has seen some major growth: ThredUp's 2019 Resale Report gave the resale clothing market a current valuation of $24 billion, and that is projected to more than double in the next five years. In the handbag industry in particular, an Hermes is considered a better investment than gold. But scouring resale sites is daunting, especially when you want to drop major cash on a secondhand bag. Firstly, is it real? (We covered the basics on how to shop safe, here.) Secondly, is it worth it? (Lemme work it.) Doing your research and cross-referencing multiple sites can help you hone in on how much the accessory should cost, but there was no standardization in luxury bag pricing. Until now.
Not all Chanel bags are made equal, but the newest fashion app by resale site Rebag is trying to figure that out. Today marks the launch of Clair, a proprietary software tool that evaluates the cost of almost any designer handbag, including more than fifty luxury brands and 10,000 styles, in seconds. It's like getting a consultation from a consignment shop, except you don't have to endure the pure shame of getting your stuff devalued in front of your eyes. (See: this painfully accurate Broad City scene).
"With more and more consumers contemplating the resale value of their luxury purchases, we've created a taxonomy that provides a transparent way for consumers to shop more wisely," says Charles Gorra, founder and CEO of Rebag said in a press release. "We've spent years gathering data and analyzing the luxury handbag market. Clair is our way of sharing that knowledge with the world."
How do you use Clair?
Whether you're looking to buy or sell a designer handbag, Clair helps navigate the murky waters of determining the true price people are willing to pay. You simply type in the bag you're interested in, and they'll help narrow it down. They created the Clair Code, a universal code system that determines the brand, model, and size of your pick. Then you enter a few details about the bag, like its condition and color, and finally, Clair automatically generates your handbag's resale value (and the price Rebag would pay to buy it from you).
How are prices determined?
When you peruse Rebag's site, you'll notice that Chanel flap bags are never the same sticker tag. That's because it takes in factors like date of production, usage, and the style's current popularity.
Soon, Clair's technology will track the prices of a handbag in real time: The app will update to reflect the cost and demand of any given style. For example, if #OldCeline bags are trending, the price will increase due to new spike in interest, and vice versa if a handbag is no longer popular.
Why is this important?
Haven't you always wondered why a Louis Vuitton Speedy is suspiciously low on one site, while another reseller priced it near retail value? Clair aims to, wait for it, clarify, exactly what your closet is worth. Think of the usage behind the Kelly Blue Book: It empowers potential buyers by educating them on a reasonable price for a 1995 Honda Civic. In turn, you use that information to get the most bang for your buck.
That doesn't mean you should always shop with resale in mind. Gorra described it to me as the difference between in an emotional purchase, versus a financial one: Chances are that pricey Birken will retain about eighty percent of its original price tag, but you can love the Prada bag more, even if it loses its value as soon as you drive it off the lot.