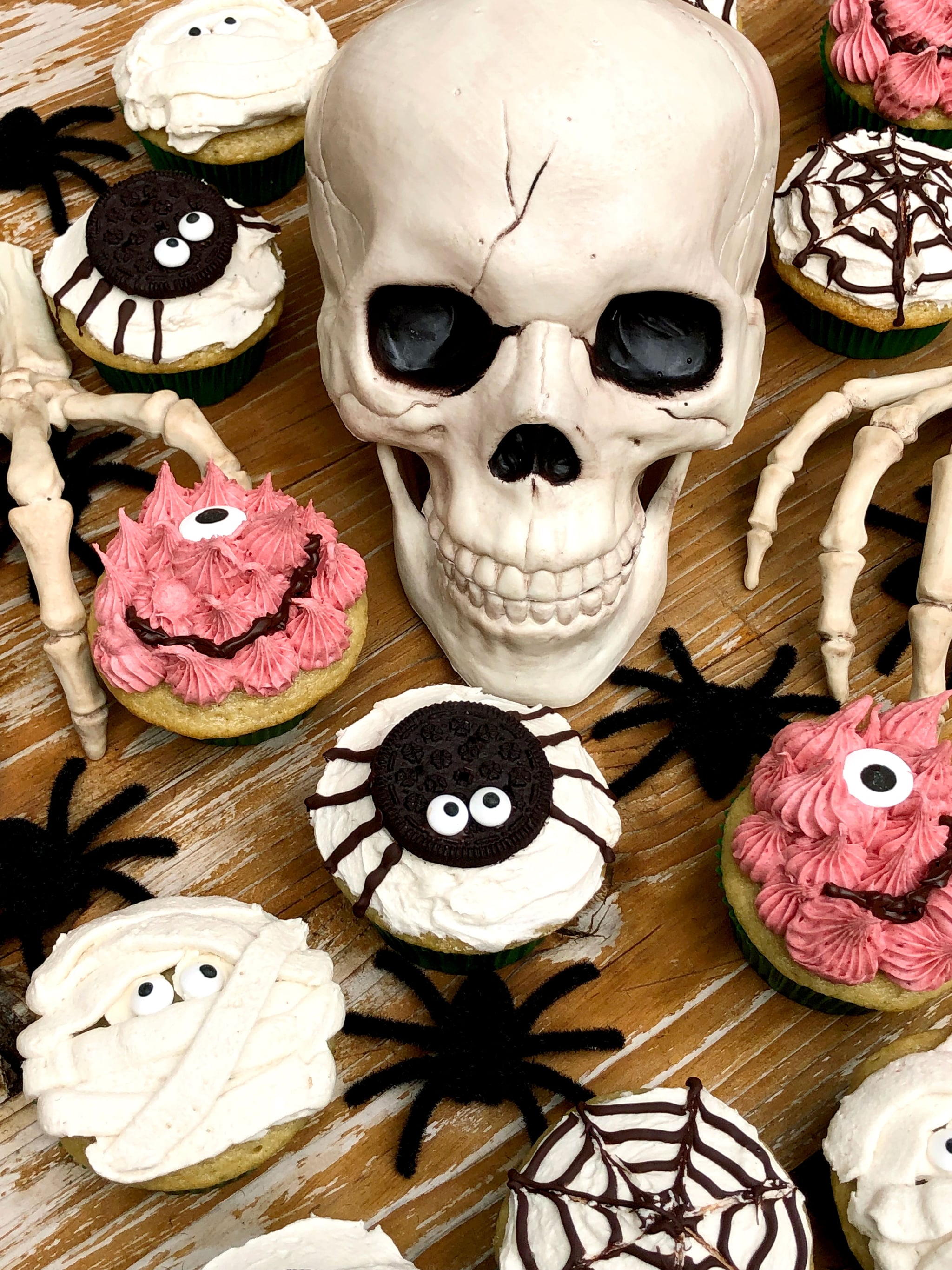 Halloween was always my absolute favorite holiday growing up (um, hello free candy, wearing wigs and makeup, and staying up late!). But when I was older and ditched dairy, I quickly realized that if I wanted to enjoy all the yummy treats, I was going to have to make them myself. If you're vegan and in need of a Halloween cupcake to make for your Halloween party, this is the perfect recipe.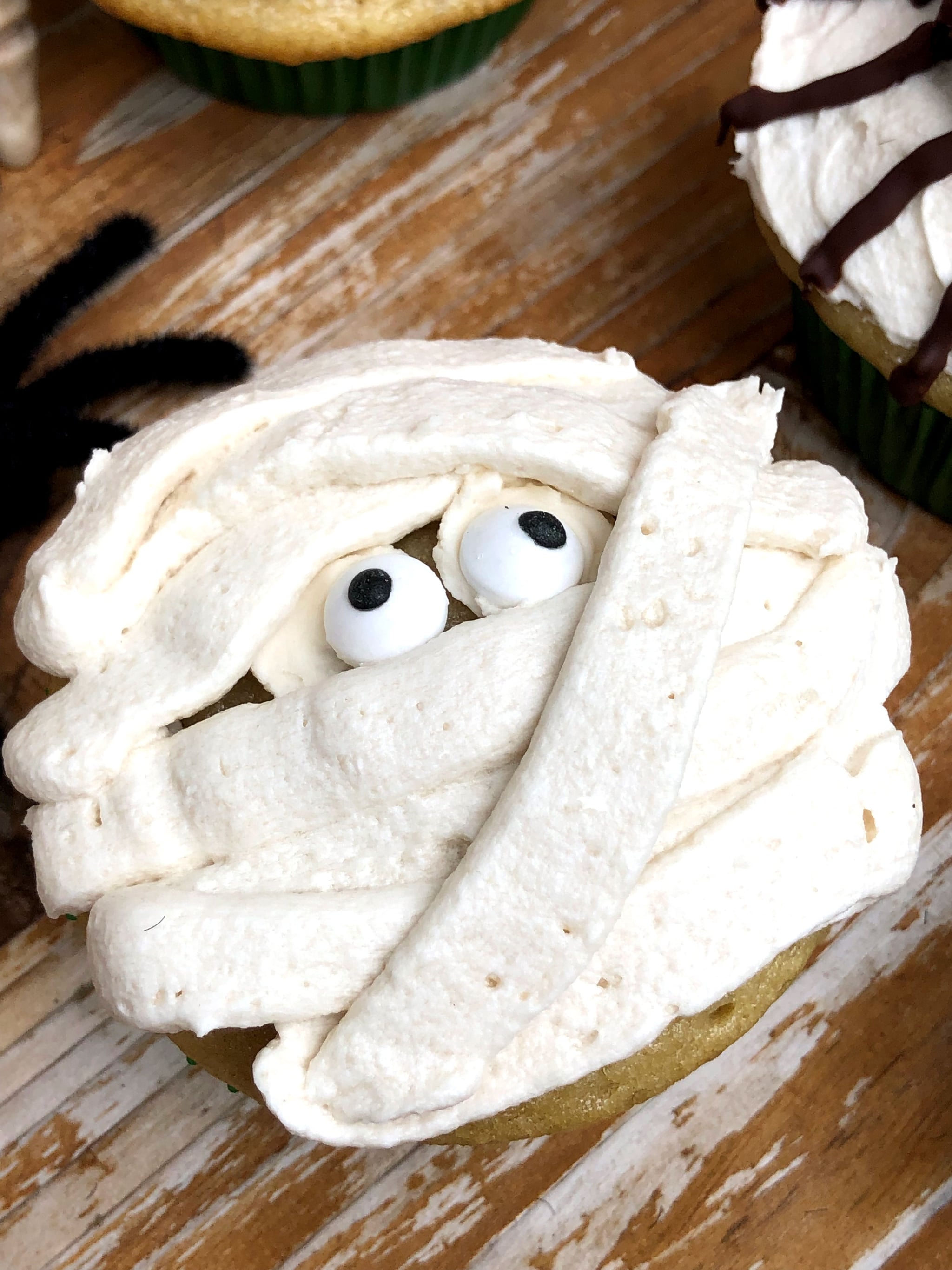 I used the golden vanilla cupcake recipe from Vegan Cupcakes Take Over the World, and the vanilla frosting recipe from the Minimalist's Bakers Everyday Cooking, and BOO-m! It tastes absolutely sweet and moist and decadent, and no one would guess they were vegan.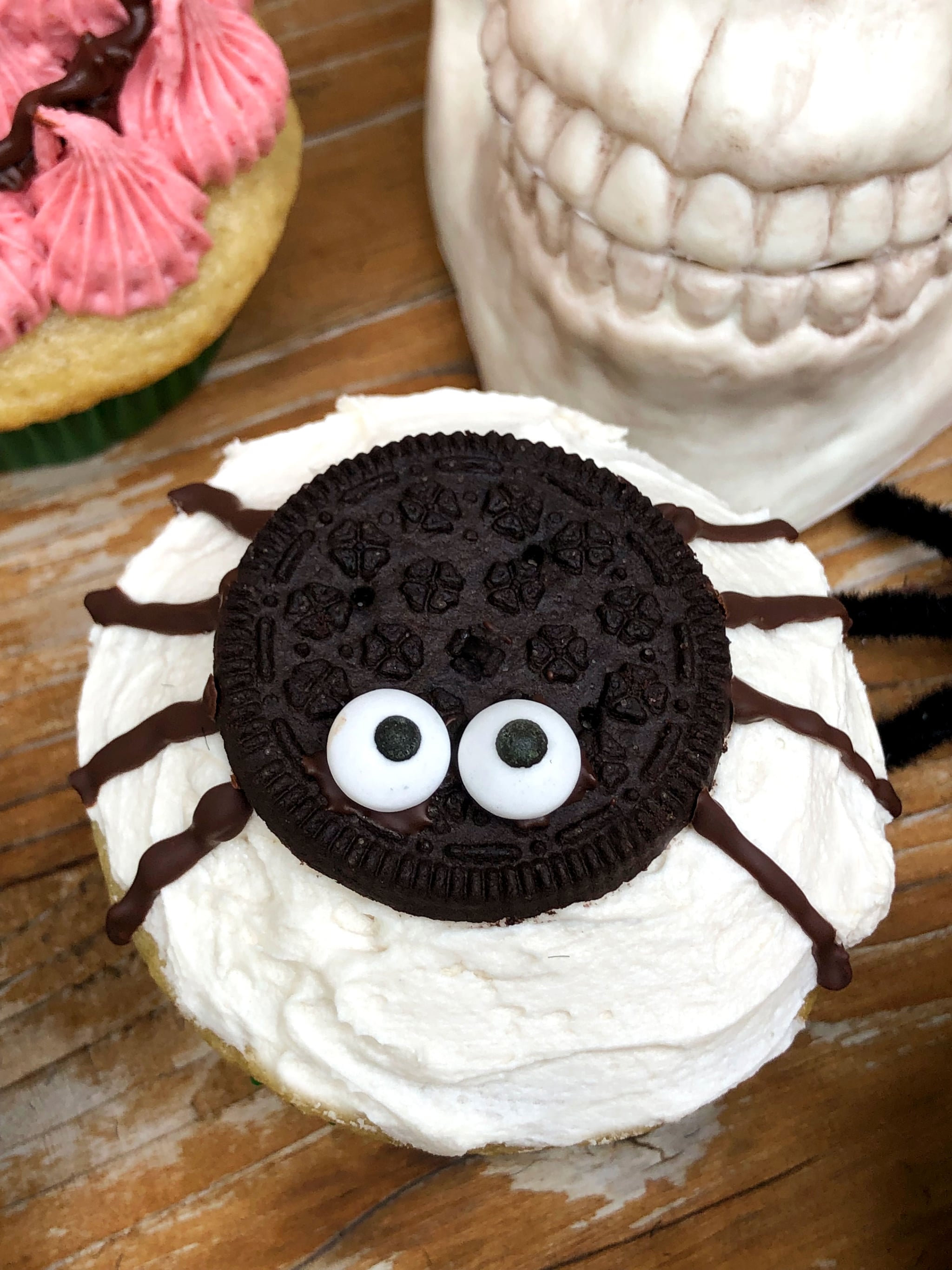 I made up these four decorations, but feel free to get all Pinterest-y on these and let your creativity run wild.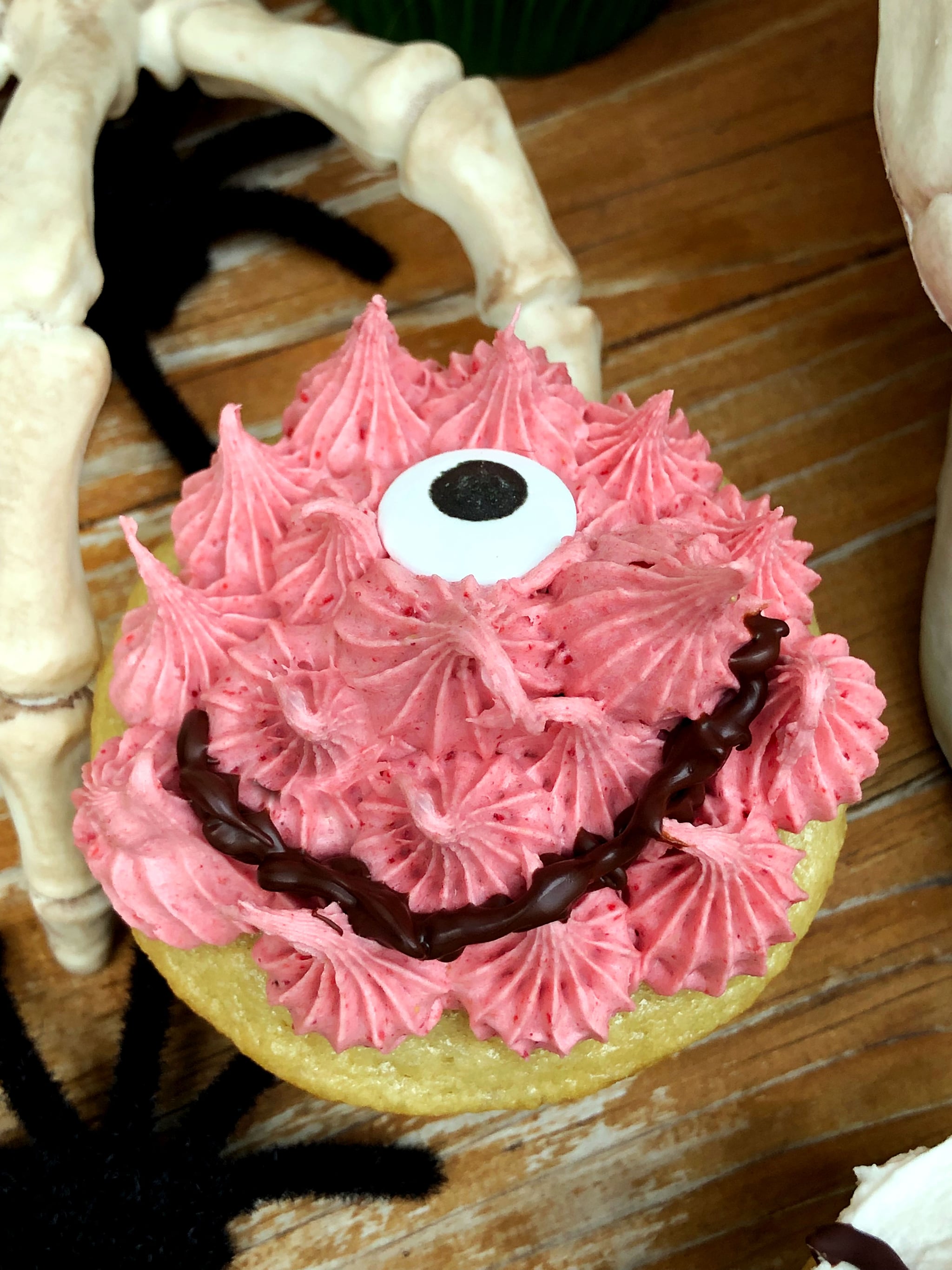 I colored the monster cupcakes with freeze-dried strawberries that I ground up in my NutriBullet, so they're not only free of red dye #847, they taste like strawberries! And I used melted chocolate for the spider's legs and spider web.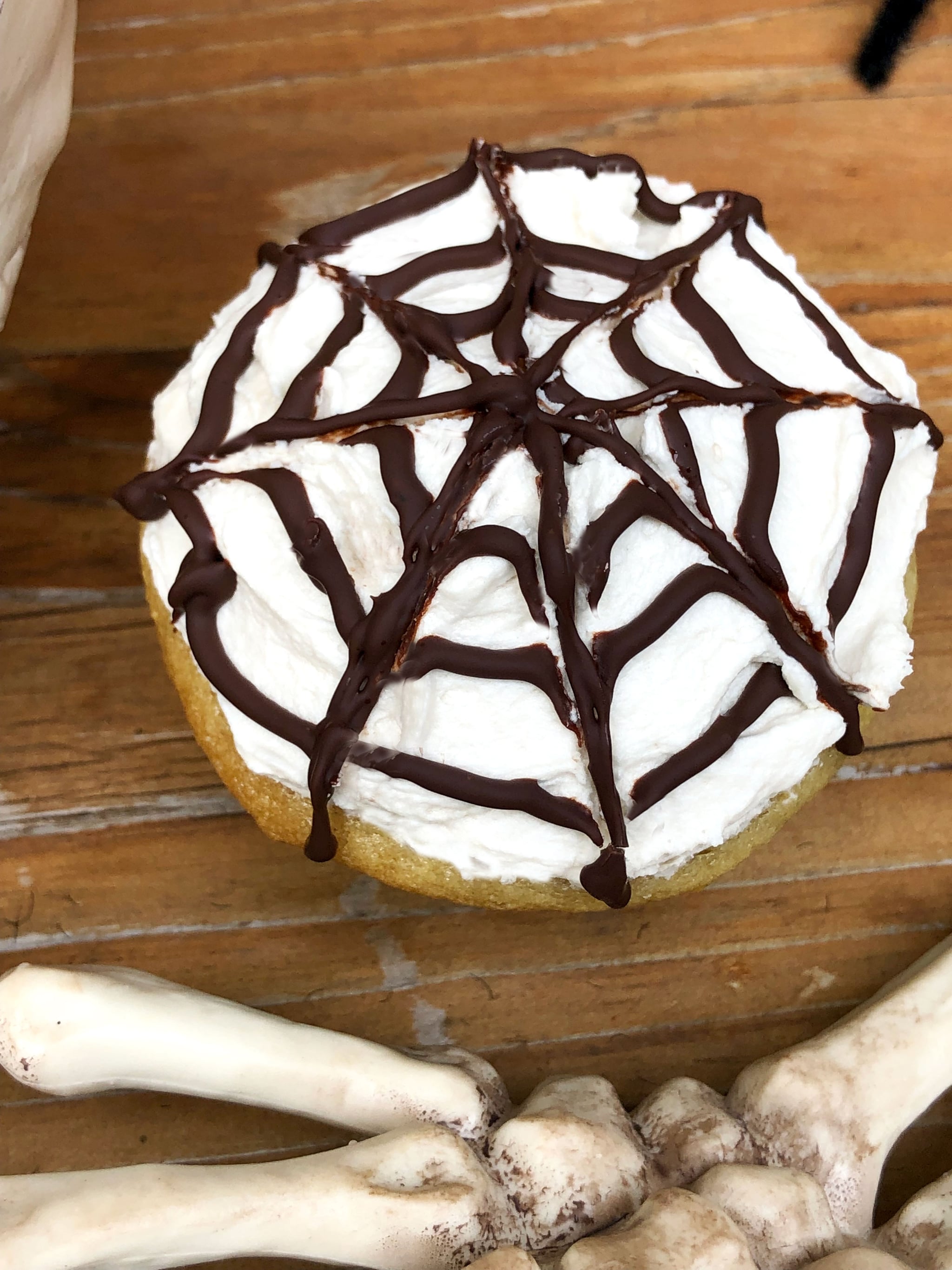 See?! Even if you can't eat the Reese's and Snickers, you can have something even better. So get in your kitchen, turn on the oven, and have fun creating these adorably spooky vegan cupcakes.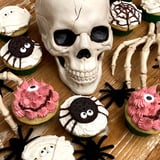 Ingredients
For the cupcakes:
1 cup unsweetened almond milk (or any dairy-free milk)
1 teaspoon apple cider vinegar
1 1/4 cups all-purpose flour
2 tablespoons cornstarch
3/4 teaspoon baking powder
1/2 teaspoon baking soda
1/4 teaspoon salt
1/3 cup oil
3/4 cup granulated organic sugar
2 1/4 teaspoons vanilla extract
For the frosting:
1/2 cup vegan butter (such as Miyokos, Earth Balance, Smart Balance, or Country Crock Plant Butter)
1/2 teaspoon vanilla extract
1 1/2 to 2 cups sifted organic powdered sugar (depending on the consistency you prefer)
1 to 2 tablespoons dairy-free milk
For decorating:
Spiderweb:
Dairy-free chocolate chips (Trader Joe's Semi-Sweet Chocolate Chips are vegan)
Coconut oil
Spider:
Chocolate sandwich cookies (Trader Joe's Joe-Joe's are vegan)
Dairy-free chocolate chips (Trader Joe's Semi-Sweet Chocolate Chips are vegan)
Candy eyes
Mummy:
Vanilla frosting
Candy eyes
Monster:
Vanilla frosting
Freeze-dried strawberries ground into powder
Candy eyes
Directions
Preheat oven to 350° F. Line a muffin pan with 12 cupcake liners. Take the vegan butter out of the fridge and set aside to soften on the counter.
Pour the almond milk into a small bowl. Mix in the apple cider vinegar and set aside to curdle.
In a medium-sized bowl, sift together the flour, cornstarch, baking powder, baking soda, and salt. Set aside.
In the bowl with the almond milk mixture, add oil, sugar, and vanilla and beat until smooth.
Slowly beat in the flour mixture to the bowl with the wet ingredients until no large lumps remain.
Fill each muffin cup two-thirds full and bake for 20 to 22 minutes, or until a toothpick inserted comes out clean.
While the cupcakes are baking, make the frosting. Add softened (not melted!) vegan butter to a large mixing bowl and use an electric hand mixer to cream the butter until light and fluffy, about one minute. Add vanilla and mix once more to combine. Add sifted powdered sugar in half-cup measurements and continue mixing until well combined and fluffy, scraping down the sides of the bowl as needed. If the frosting is too thick, add one tablespoon at a time of non-dairy milk until the desired consistency is achieved.
Transfer the cooked cupcakes to a cooling rack and allow to cool completely before frosting.
Now it's the fun part! Decorate however you choose. These are just some ideas:

Spiderwebs: Melt one-third cup of dairy-free chocolate chips with one-quarter teaspoon coconut oil. Add the mixture to a freezer-safe plastic baggie, snip off a small part of the corner and pipe four circles on top of the frosting. Use a toothpick to drag eight lines from the center to the edge to create a web design. Expert tip: Do this immediately after piping on the chocolate because it won't work if the chocolate dries.

Spiders: Open a chocolate sandwich cookie and place one side on top of the frosting. Use melted chocolate to draw legs and to glue on the candy eyes.

Mummy: Use two dabs of frosting to attach the candy eyes to an unfrosted cupcake. Use a flat tip to pipe on the mummy's fabric strips all over the top of the cupcake around the eyes.

Monster: Mix the powdered freeze-dried strawberries into the remainder of the frosting. Use a star or flower tip to decorate the cupcake. Attach one big candy eye and use the leftover melted chocolate to pipe on a mouth.
Here's the nutritional info for one cupcake: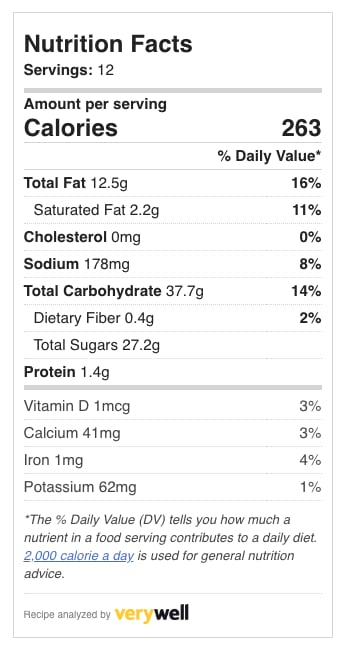 Information
Category

Desserts

Yield

12 cupcakes

Prep Time

15 minutes

Cook Time

20 minutes

Total Time

34 minutes, 59 seconds
Nutrition
Calories per serving

263