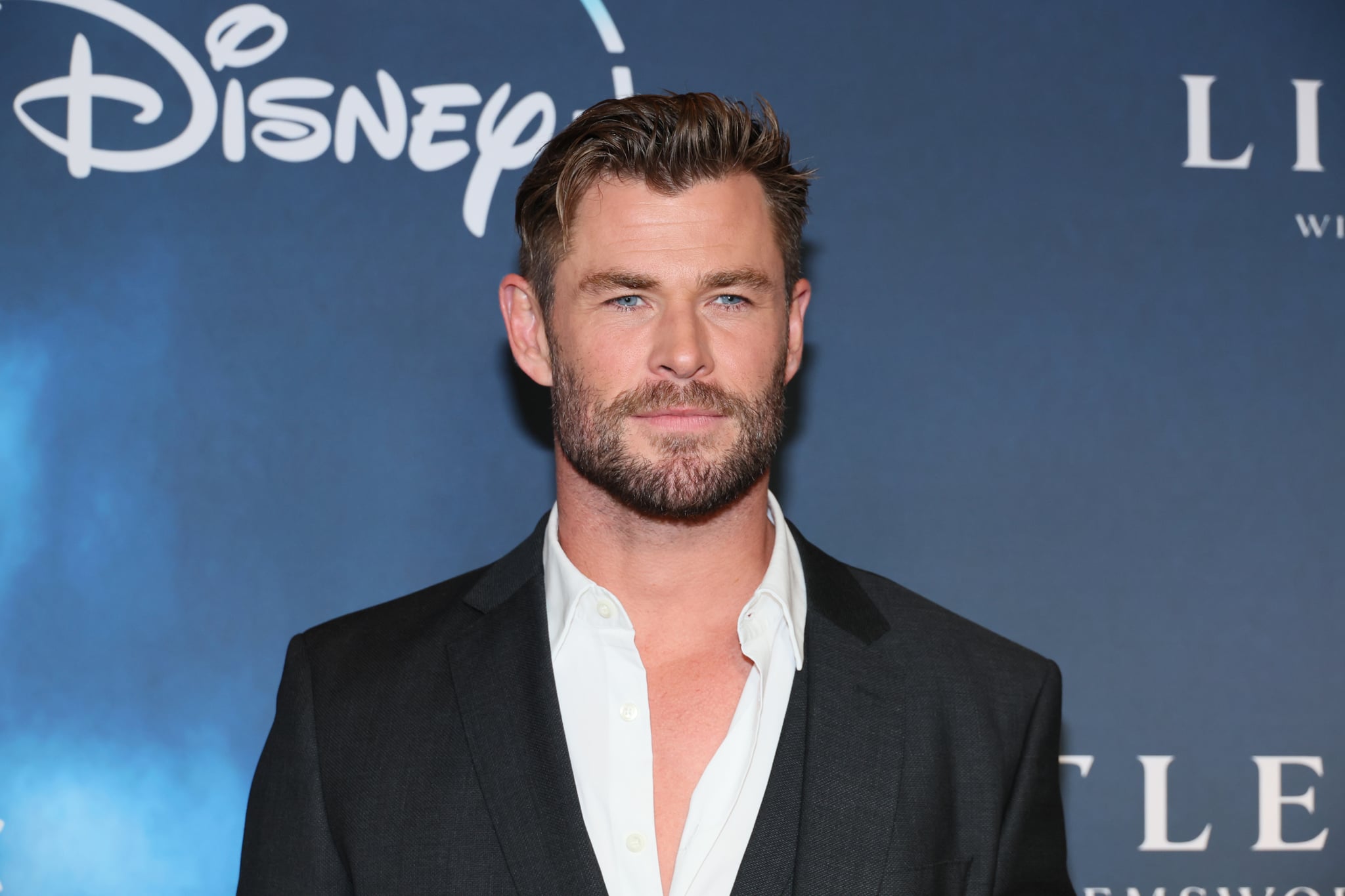 Chris Hemsworth's "Limitless" series was designed to push the actor out of his comfort zone, but Hemsworth couldn't have predicted how deeply some of the revelations would hit. In the fifth episode of the National Geographic-Disney+ series, Hemsworth discovered he has a genetic predisposition for Alzheimer's, and the revelation has prompted the 39-year-old to take a step back from his career. In an interview with Vanity Fair published today, the "Thor: Love and Thunder" star announced that he's planning to take "some time off" to be with his family and "just simplify."
During the series, billed as a mission to find out "how to live better for longer" by Disney+, Hemsworth undergoes a series of challenges and adventures to "push himself to new limits and stop the diseases of old age before they take hold." In episode five, he takes a series of genetic tests that reveal two copies of the APOE4 gene, which is linked to increased risk of Alzheimer's disease, a progressive form of dementia. According to a 2021 National Institutes of Health study, 25 percent of people carry one copy of the gene, and just two to three percent carry two copies, like Hemsworth. "APOE4 is the strongest risk factor gene for Alzheimer's disease, although inheriting APOE4 does not mean a person will definitely develop the disease," the study states. On the show, longevity doctor Peter Attia, MD, says that people with two copies of the gene APOE4 gene are eight to 10 times more likely to develop Alzheimer's.
Hemsworth said that getting the news forced him to reckon with his mortality. "Most of us, we like to avoid speaking about death in the hope that we'll somehow avoid it," he told Vanity Fair. "We all have this belief that we'll figure it out. Then to all of a sudden be told some big indicators are actually pointing to this as the route which is going to happen, the reality of it sinks in."
Hemsworth was originally going to get his test results on camera, a plan the show scrapped after finding the two genes. The news shocked Hemsworth, who said he didn't know what to think. "Am I supposed to be worried? Is this concerning?" He ultimately decided to go public with the news on the show, believing it could be a "motivator for people to take better care of themselves," he said.
The revelation also made Hemsworth's work on the show "even more poignant than I ever thought it would be," he said. Hemsworth, the famously fit Thor actor and founder of wellness app Centr, said he's now even more motivated to focus on his health from a prevention perspective. According to the Centers for Disease Control and Prevention (CDC), healthy lifestyle habits like regular exercise and blood-pressure management may lower risk of dementia. And despite his heightened risk, Hemsworth noted that it's not a sure bet that he'll get the disease. "It's not a pre-deterministic gene, but it is a strong indication," he told Vanity Fair. Hemsworth's grandfather has Alzheimer's as well.
Hemsworth's experience on the show, which also contains an episode specifically about accepting death, also pushed the actor to take a step back from his career, which he described as a 10-year "sprint." He planned on going home to Australia to be with his wife, Elsa Pataky, and their three kids after wrapping up the "Limitless" press tour. "Doing an episode on death and facing your own mortality made me go, 'Oh God, I'm not ready to go yet,'" he explained. "I want to sit and be in this space with a greater sense of stillness and gratitude."
He's also approaching his Alzheimer's revelation from a place of gratitude. "For me, the positive of it was like, 'Right, if I didn't know this [Alzheimer's] information, I wouldn't have made the changes I made,'" he said. "I just wasn't aware of any of it, so now I feel thankful that I have in my arsenal the sort of tools to best prepare myself and prevent things happening in that way."
Hemsworth's hiatus is not a retirement, the actor clarified, and he's looking forward to the break. "[I]t's just a sense of contentment, and with being very proud of what I've done and the experiences I've had," he said. "I welcome whatever comes next."