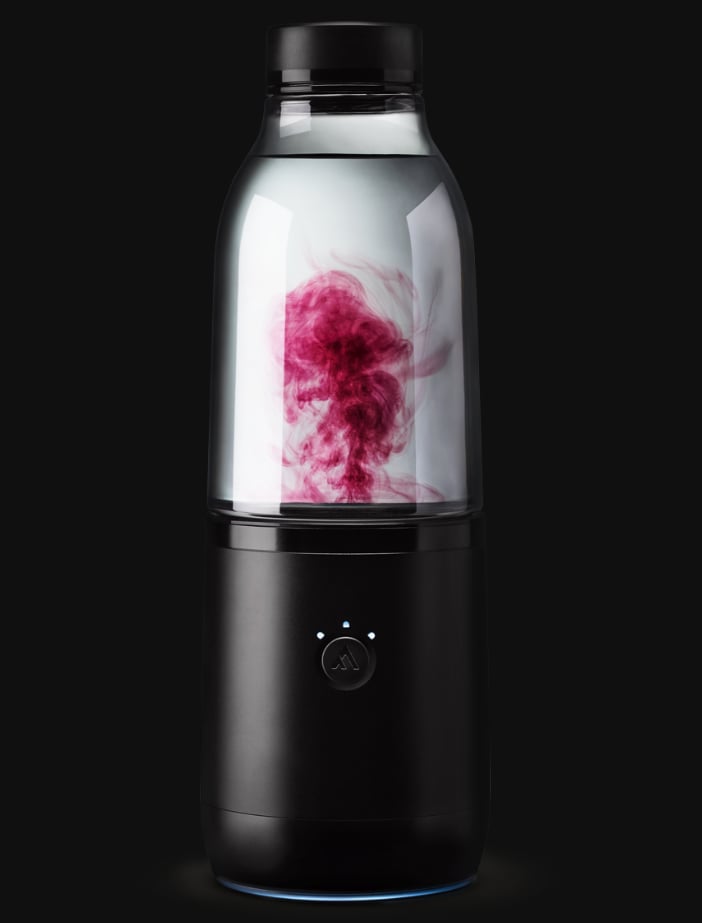 I've always gotten away with fibbing that I drink a solid eight glasses of water per day, but I wasn't pulling one over on my cardiologist, who discovered I was dehydrated based on an EKG of all things. (Yup, apparently that's a thing.)
In my defense, I have tried to drink more water on several occasions, but, adding lemon for flavor or carrying around a massive bottle with measurements written on the side never stuck.
Clearer skin, less bloating, and more energy were never enough incentives for me to kick my flavored-beverage dependency, but this was a new low.
Being a health and wellness editor, I had heard of tech water bottles before — and like destiny, the LifeFuels bottle ($180) ended up on my desk the same week as my EKG epiphany moment.
I'll hold as you roll your eyes at that price tag. Yes, spending $180 on a 16.9 fl oz water bottle sounds ridiculous, but hear me out. This techy water bottle (or, as I've personally dubbed it, my water drinking coach) has completely changed the way I hydrate, and I'm never going back.
To use the water bottle, you're instructed to download the LifeFuels app on your phone, input your weight and height, and then you're assigned a daily water intake quota. As you hydrate, the bottle tracks your progress and awards you a satisfying checkmark on the app once you've completed your suggested daily intake. I'm naturally competitive, so I viewed this as a fun challenge.
You can look back on your daily, weekly, monthly, and even yearly performance, as the bottle tracks your sips down to the minute with a colorful histogram — you can also get drink reminders on your phone or Apple Watch.
My favorite part of the bottle, though, is the built-in FuelPods — because I just can't go cold turkey on flavored drinks. The LifeFuel bottle holds three flavor capsules (aka the FuelPods) at a time, which dispense into your water at the press of a button — it originally comes with lemon lime, peach, and blackberry acai.
Each FuelPod ($10 individually) creates up to 30 beverages meant for moments when you're struggling to reach your goals or are craving flavor. They've truly helped me part ways with my go-to vice, blue Gatorade. Plus, they're great for satisfying my late-night sweet tooth.
Each flavor serves a wellness purpose, too. The peach is full of multivitamins, the lemon lime offers electrolytes, and the blackberry acai is high in antioxidants. Other flavors available online include kiwi strawberry lemonade, which also contains electrolytes, ginger citrus for enhanced focus, and white grapefruit citrus for natural energy.
Your bottle tracks your FuelPod usage through the histogram and lets you know how many beverages you have left per cartridge. Once you're done with a pod, you can send them back to LifeFuels so they are properly recycled. Plus, both the pods and bottle help to reduce the use of single-use plastic bottles, earning LifeFuels sustainable bonus points.
Just two weeks into using my bottle, I've noticed a drastic change in my overall well being.
When I am not taking frequent trips to the lady's room, you can catch me — glowy, fit, and energized — parading around with my LifeFuels in hand.
Click here for more health and wellness stories, tips, and news.