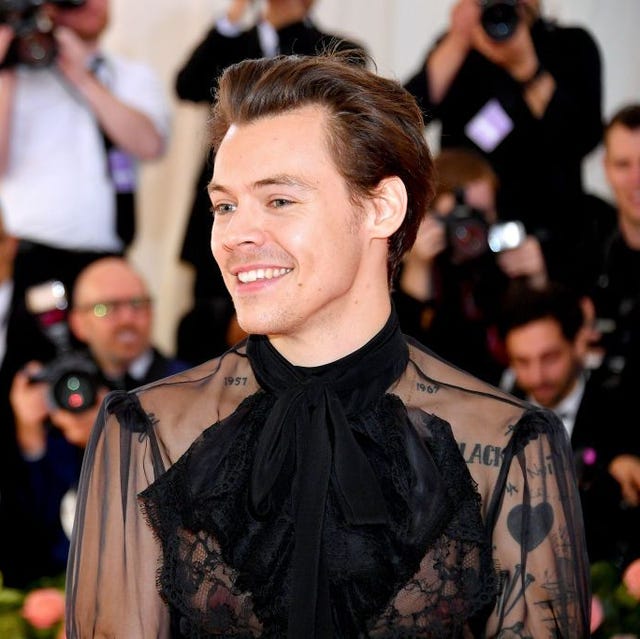 Dia DipasupilGetty Images
For decades, women have been sold on the idea of dressing like their boyfriends. From Boyjeans to the shirtdress, traditional menswear restyled as womenswear has a storied history. Now, as culture moves towards a genderless fashion future, male celebrities are flipping the menswear-as-womenswear trend on its head and incorporating silhouettes traditionally reserved for women into their own wardrobes. What was once a radical statement (Mick Jagger in the '70s) and then a punchline (Seinfeld's puffy shirt episode, anyone?) is now a direct line to fresh and dynamic menswear. Tired: boyfriend jeans. Wired: your girlfriend's going out top. Below, some celebs working the trend.
Advertisement – Continue Reading Below
1
Timothée Chalamet
In a sequined Louis Vuitton hoodie.
2
Harry Styles
In a black lace top by Gucci.
3
Ezra Miller
Wearing a Bode blouse and patchwork jacket.
5
Cole Sprouse
In a dark gray satin button-down.
6
Jonathan Van Ness
In a silver sequined top.
8
Ezra Miller
In Saint Laurent during Paris Fashion Week.
9
Billy Porter
Wearing Ashish along with a statement bag that reads, "FUCK U PAY ME!"
10
Chadwick Boseman
In an Etro bomber jacket.
11
Jared Leto
Sporting a billowy white sheer top.
12
Shawn Mendes
In a sparkly shirt by Fendi.
13
Jared Leto
Wearing a colorful shirt by Gucci.
14
Rami Malek
In a Saint Laurent by Anthony Vaccarello midnight blue bomber jacket.
15
Billy Porter
In a printed top by Victoria Beckham.
Advertisement – Continue Reading Below